Strategic planning is a task most executives want to avoid. Why? Because, it's typically painful. It feels cumbersome and disconnected from what's important to the organization right now.
The good news is that simplifying strategy is possible so that it becomes engaging, productive, and fun!
Using the Brainzooming Method, we can involve more brains in strategy. Amazingly, that both accelerates the process and makes the resulting strategy better and easier to implement.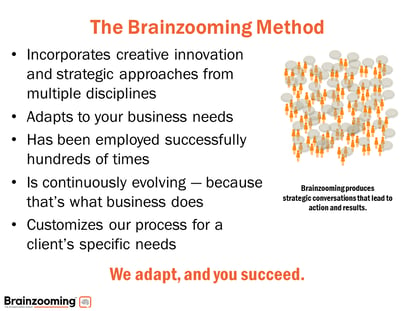 What Are the Keys to Streamlining Strategic Planning?
Through hundreds of Brainzooming engagements with clients across industries, we've found five basics for streamlining strategic planning:
Successfully involving diverse participants across all organizational levels
Replacing cumbersome, traditional techniques with creative thinking exercises to expand strategic possibilities
Focusing strategy planning on your most important success factors
Customizing the process for leadership's strategic change expectations
Adapting a proven process to your organization to build on your strategic strengths
1. Involving Diverse Participants at All Levels
Engaging diverse participants with a collaborative approach to strategy planning creates more thorough and robust plans. By involving more people, we routinely turn weeks of solo work into streamlined, dynamic group collaborations.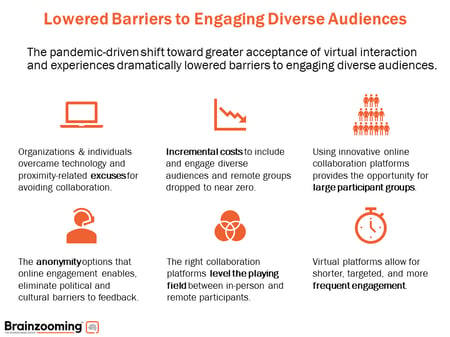 The forced-embrace of virtual meetings that emerged during the Covid pandemic dramatically furthers opportunities to engage diverse audiences. Collaborative strategy generates significant thinking and input; this can feed directly into strategy plans.
When Brainzooming moves strategy planning online (whether standalone or coupled with in-person collaborations), clients can expand participant diversity in even more meaningful ways. With lower barriers to engaging diverse audiences, Brainzooming takes full advantage by emphasizing:
Order of magnitude increases in group size (at small incremental costs) to boost diverse thinking
Embracing anonymous responses to eliminate political and cultural feedback barriers
Planning within shorter, more targeted engagements that free up participants from time spent in unproductive meetings
Bringing Diverse Participation to Life
2. Expanding Possibilities with Creative Thinking Exercises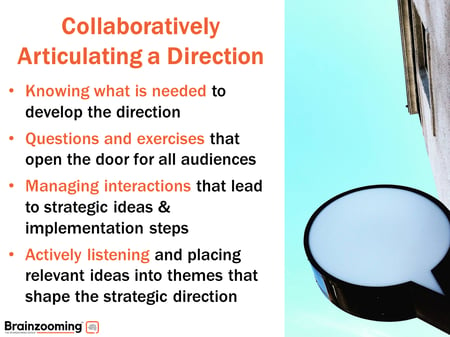 Standard planning processes make executives complete complex templates and write lengthy (but often still painfully light on detail) strategic plans. Completing supporting templates happens without efficient and effective ways to generate the necessary answers. This disconnect causes floundering and frustration for executives.
Another frustration? Writing strategy plans is an infrequent task for nearly everyone. That's why most executives never become adept at completing plans with the optimum levels of breadth and detail.
The Brainzooming Method employs a completely opposite approach to support collaboration and accelerated planning timelines.
We open doors to innovative thinking by surrounding participants (executives, managers, and employees) with productive, creative exercises. These allow people to:
Efficiently share what they know along with perspectives
Help them to think about familiar situations in new ways
Express ideas in ways that lead to building strategy plan inputs as the process progresses
This approach eliminates planning's unproductive aspects. We further accomplish this because Brainzooming compiles all the input into a strategy plan with a format and depth that fits how your organization most successfully implements.
Replacing strategy planning's tedious aspects with efficient, alternative approaches lets participants positively contribute in more productive and efficient ways.
Effectively and Efficiently Expanding Innovative Thinking
3. Focusing planning on your most important success factors
Organizations can mistakenly separate strategy planning from what happens on a daily basis among employees, external audiences, and markets. This occurs when executives view strategy as having only a long-term focus.
This mindset that only focuses on long-term issues causes your organization to:
Miss the opportunity to positively impact many critical near-term elements
Primarily address future initiatives with often vague steps and far-off completion dates
Be ill-prepared to devote sufficient energy to near-term issues with strategic implications
Avoiding these risks is why we engage leadership early in any strategy planning engagement to identify:
What matters for the organization
What it most needs to achieve with the strategy
The factors that will drive positive outcomes or create critical challenges
We then reach out broadly to internal and external audiences, looking for themes that suggest what's most important now and in the future.
Our leadership-driven, collaboration-centric approach employs strategic conversations and group exercises. This approach focuses on strategic issues irrespective of the time horizon. The resulting strategy plan then ties to an organization's most important activities.
Focusing on What Matters
4. Match your strategy process to your change expectations.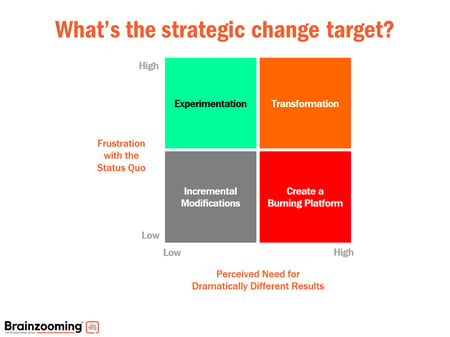 Before launching strategy development, it's vital to pin down how dramatically different an organization's expected direction should be relative to its current strategy. Working from a strategic change profile opens the door to designing a streamlined planning process that pushes the organization's thinking consistent with leadership's boldness.
For example:
If the organization's current strategy has been successful, it may simply want to extend it. In this case, strategy exercises should focus on innovative, albeit incremental, improvements.
An organization that sees upside or challenges that are addressable within its current model needs exercises that foster innovative thinking.
When an organization needs to transform, but there's resistance or reluctance, step one focuses on presenting data and emotional messages. The goal is to create greater understanding of the need for dramatic change. Then, transformation can proceed with strategy exercises intended to push for bold, new, non-linear thinking.
While we adapt exercises to match the strategic change expectations, certain types of exercises are proven effective, including:
Analogies – These help executives step away from familiar situations to imagine them in new ways
Extreme Exercises – Incorporate severe constraints, permissions, and twists to spur disruptive thinking in a safe environment
Strategic Detours – Approaching familiar strategic thinking questions and exercises through new pathways that promote fresh thinking
No matter which exercises best fit the overall process, they all need to create opportunities for participants to easily and successfully share their perspectives. This applies no matter where someone works within the organization.
Customizing Strategic Exercises for Effectiveness
5. Adapting the process to an organization's strengths.
As a process, strategic planning must serve the business, not the other way around. That's why, rather than using a static approach, adapting planning to your organization streamlines the process and creates better results. A process that fits an organization creates greater flexibility for participants, saving them (and the overall organization) time and hassle.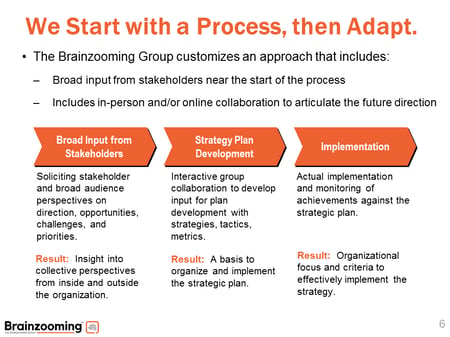 That's why Brainzooming is emphatic about streamlining strategy: it's the best way to maximize the time spent on implementation versus an overly-long process to develop strategy.
Before launching strategy planning, review your previous planning outputs and current strategy work to see how it might fit into future planning. You can do this through:
Inventorying what's available from your previous strategy planning and subsequent work that is relevant and forward-looking.
Determining how complete and informative your organization's market insights work is.
Evaluating where and how you successfully implemented your previous strategies and where you struggled.
Building on everything possible that already exists and is additive to the next strategy
We also adapt planning by matching the variety of interactions to your objectives:
It's beneficial to ask questions one-on-one, whether via personal interview or survey, when seeking factual information. This is also important when you expect answers to differ based on who else is in the room.
Smaller groups are ideal when you want more people actively and concurrently generating ideas.
When a small number of people have more information than everyone else, a large, in-person group becomes appropriate. When employing large groups, though, we recommend using smaller teams from within the large group to increase diverse thinking and the volume of output.
No matter your strategy planning situation, streamline it to include only the steps you absolutely must complete for strong implementation and results.
Adapting Strategic Planning to Streamline It
Begin Streamlining Strategic Planning Right Now!
Through years of experience with the Brainzooming Method, we've identified these productive approaches to eliminate weeks (sometimes months) from typical strategic planning methods. We invite you to apply and adapt them to your own organization's situation to streamline strategy planning, save time, increase engagement, and deliver results.
Brainzooming would also love to answer your questions about how we can collaborate with you to start streamlining your strategic planning process right away!