After compiling yesterday's list of your Top 10 favorite (i.e., most-viewed) new Brainzooming posts from 2014, here are my favorites.
As is often the case, there are stories behind these posts. Sometimes the stories are contained in the posts, sometimes they are not. Nevertheless, there are some overlooked gems in this list (if I do say so myself), that you will enjoy if you didn't catch hem the first time around in 2014!
Strategy and Creative Thinking - My Favorite Brainzooming Posts for 2014
This recounts a fun content marketing success story. The original story covering how we use our online collaboration platform to work with teams spread out across multiple locations prompted a two-year Brainzooming reader to contact us. Over a few hours, we put together a strategic plan for her organization that set the stage for 2015.
I love when questions during workshops turn into blog posts. This competitive strategy post was the answer to a question at the Compete through Service Symposium on how you can push your organization to better imagine surprising competitors.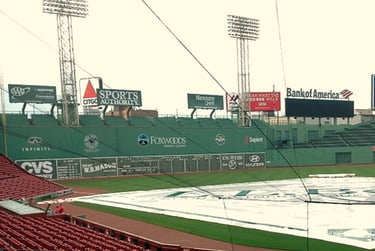 Some blog posts are written to share what we're trying to improve upon in our own business. While content marketing has been a significant part of expanding The Brainzooming Group, we have work to do on linking our content to the steps potential clients are going through in selecting strategy and innovation partners.
This post recounts a live experiment that showed why using different types of strategic thinking questions changes what types of answers you'll get. While I was confident the experiment would work, the possibility that I could have failed is what made it exciting to throw in to a live presentation as an unplanned exercise!
It seems like there are a few posts similar to this every year, where someone on Facebook or Twitter supplies the missing piece to turn a random idea into a fully realized thought. This was my favorite example from this year, as we teamed up to define what "lle" stands for when it comes to positive change.
I love this Halloween-oriented GEICO ad because it skewers the improbability of horror films. At the same time, though, it's a great analogy for the bad judgment you find in organizations that stick with the same old strategic planning approaches instead of trying something new - such as how The Brainzooming Group approaches developing strategy!
This strategic thinking exercise to help in designing a new website went from being used in a meeting on a project we were working on to a blog post in less than twenty-four hours. I love when that happens!
I've been carrying this Andy Warhol quote around with me since writing a paper on him for a high school "Modern Thought" class with Fr. Gilmary Tallman. I couldn't believe it had taken this long to share it in the blog post. There just aren't that many ideas I still have kicking around from back then that haven't found a way into the blog yet.
This one is a favorite because of the event, the event's co-sponsor (Nature Explore, an organization where I'm on the board), and the opportunity to create a self-facilitated focus group of well over one hundred people. And what's even better is we just reached an agreement to close the 2015 Leadership Institute with another full-audience, self-facilitated strategic thinking exercise.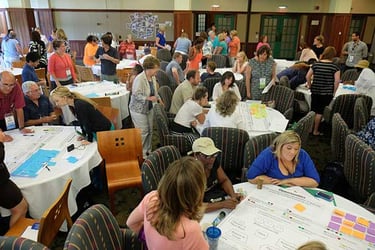 The story of the funniest plane flight I've had in years, courtesy of my new friend, Ahava Leibtag. By the time I'd try to explain it, this would be as long as the post. Just click and read it!
This post with a recommended disclaimer that should go on all (or at least most) business blog posts is perhaps the truest post ever on the Brainzooming blog.
This is a favorite because of the photo. I took a photo of an automated trashcan at the Atlanta airport thinking it would come in handy one day for a blog post about throwing something away. There is the big lesson: Always be taking photos that might fit into future blog posts. ALL THE TIME.
Okay, maybe THIS is the truest Brainzooming post ever. Even though I KNOW these steps, I cannot seem to avoid them EVERY TIME I prepare a new presentation.
I like this post because it reminds me of things we did during live workshops that, if not for the post, would have been lost to me even just a few months later. A reminder to take better notes on what we do rather than just committing it to memory!
This one is very personal. It started life as a blog post about a former co-worker's life (and death). When I actually wove the story into a presentation about Aligning Your Life's Work, I wasn't sure I'd get through the story without crying. Emotions are a challenge for me. To have a story that forces me to deal with emotions during a presentation says it's an important message.
It's about sex. And what about that photo?
This is the best, most widely applicable advice I have to offer. And yes, it is also the most-ignored advice I offer when people ask for career advice. That alone puts it on this list of my favorite posts: it's full of unrealized value just waiting for you to do something about it!
This one required very little creativity from me, but it's likely my most-viewed Brainzooming post from the year because Brian Williams doing Rapper's Delight is a scream!
This one isn't a favorite for the written story as much as the untold story behind the two pictures of Kate Jackson and me snuggled up. I always liked the smartest Angel best, I have to admit.
Here's hoping you enjoy some of these favorites from 2014!
Download the free ebook, "Taking the NO Out of InNOvation" to help you generate fantastic creative thinking and ideas! For an organizational innovation success boost, contact The Brainzooming Group to help your team be more successful by rapidly expanding strategic options and creating innovative plans to efficiently implement. Email us at info@brainzooming.com or call us at 816-509-5320 to learn how we can deliver these benefits for you.