We introduced the first Brainzooming strategic planning workshop resembling what we do today as The Brainzooming Group ten years ago, June 19-20, 2006.
Here's the story of how a request from a big supporter, then and still, instigated a major change in the Brainzooming Method.
Linking Creativity and Strategic Planning
I met Chuck Dymer, the Brilliance Activator, in the mid-1990s. Chuck facilitated multiple engaging, high-energy strategic innovation sessions for us at Yellow Corporation. Chuck's creativity techniques and helped us generate tons of ideas. We started dabbling within our market planning team to help our internal clients generate new ideas, too. We'd do these sessions as part of strategic planning. Since we were learning as we went, some sessions worked better than others. The common denominator was we'd help internal teams generate ideas, document and categorize them, and deliver a long organized list. We'd then turn to preparing a strategic plan.
After several cycles, it became apparent our marketing managers couldn't translate the ideas into effective plans. The ideas were filed away, and they returned to struggling to create plans using traditional ideas.
In May 2006, Dave Kramer, a Senior Sales and Marketing VP at one of our transportation subsidiaries asked us to help one of their company president's come up with a strategic plan – quickly. They had to deliver the plan to improve performance and profitability to their CEO by the end of June.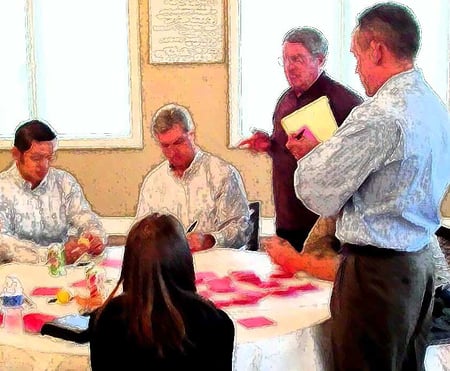 We had the processes and exercises needed already developed but had never put them all together to move from ideas to plans within a day or two. Keith Prather of Armada Corporate Intelligence, our strategic partner, and I sat down to figure it out. Finding an article in Inc. magazine about a consultant selling two-day business planning, we saw a possibility. The consultant streamlined traditional strategic planning steps, introduced fun videos, and created a tolerable experience for executives creating a strategic plan over a weekend.
If this guy could do it in two days, we DEFINITELY could! I'd already been accumulating strategic thinking exercises for ten years by that time. All we had to do was integrate the right ones and speed up what we could accomplish in a strategic planning workshop.
Simplifying a Strategic Planning Workshop
After creating the strategic planning workshop, we surveyed the company's senior team for ideas in advance and headed to Harrisburg, PA for the in-person work. We shared the survey results, led them through prioritizing opportunities and threats, and started to tackle what they needed to do to accomplish their big objectives the first afternoon. Using a few basic posters, we described the strategic thinking exercises, using easel pads and sticky notes to capture ideas. As early evening approached, we had everything needed to draft a pretty solid plan. By facilitating the strategic conversations in a targeted, productive way, even potentially off-topic chatter contributed to completing the strategic planning template we designed.
While the rest of the group went to dinner, Keith and I went to an office supply store to buy a travel printer. Back in the hotel's meeting room, we typed everything from the day to complete a strategic plan document. Chalking up a late night creating a strategic plan marked an early Brainzooming process standard.
The next morning, the group returned, surprised to find printed copies of the draft strategic plan. All they needed to do was review what we'd created and assign dates and names to strategies and tactics. Afterward, they had the strategic plan!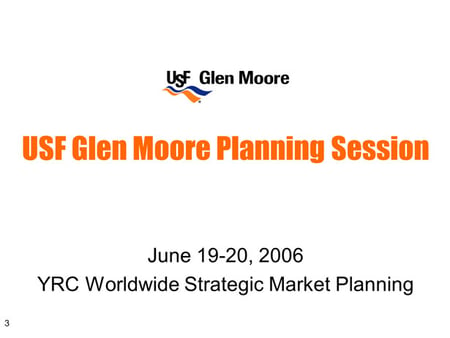 After that, whenever we designed a strategic planning workshop, we made deliberate design decisions on the right balance of creative thinking and focused plan building. The mix varies from pure creativity to pure planning, with usually some mix in between.
Dave introduced our process into the other subsidiary companies in his area of corporation. We also worked with Jim Ferguson at Roadway Express (another subsidiary) to test our process with his teams' plans. That's why I tell people the Brainzooming process was really honed in Akron, OH, where both Dave and Jim worked. At one point, Dave said, "I thought you guys had a process, but I saw what you did change every day." Our answer was we were learning new things daily and adapting what our technique to reflect new successes and failures. By the time I left YRC to spin off The Brainzooming Group as a full-time outsourced strategy, innovation, and planning company, we had completed two hundred workshops of varying types.
That's the story behind the first Brainzooming workshop ten years ago.
We're proud to say Dave Kramer remains a client, using us to help develop strategy (for sales growth, communications, branding, and company direction) at two subsequent companies where he's served as a C-level executive.
Do you want to develop an actionable strategic plan really fast?
If your company could benefit from quickly developing innovative ideas, understanding opportunities in new ways, and creating an actionable, collaborative plan, contact us. Let's talk about how what we do can help your organization thrive! – Mike Brown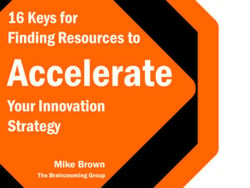 You know it's important for your organization to innovate. One challenge, however, is finding and dedicating the resources necessary to develop an innovation strategy and begin innovating.
This Brainzooming eBook will help identify additional possibilities for people, funding, and resources to jump start your innovation strategy. You can employ the strategic thinking exercises in Accelerate to:
Facilitate a collaborative approach to identifying innovation resources
Identify alternative internal strategies to secure support
Reach out to external partners with shared interests in innovation
Download your FREE copy of Accelerate Your Innovation Strategy today!