Yesterday, we identified the six types of strategic planning process activities we use to design a client's strategic thinking workshop. To facilitate you going deeper into thinking about how these activities function within a strategic planning process, here are articles in each of the six areas.
6 Types of Strategic Planning Process Activities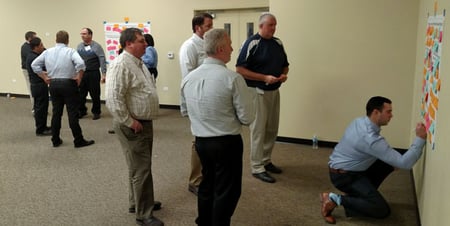 Interacting (Networking, meeting, team building)
Informing (Sharing background data and context)
Investigating (Assembling the facts for strategic planning)
Insighting (Revealing breakthrough opportunities and threats)
Iterating (Structured thinking to expand ideas)
Integrating (Assembling pieces into strategy)
Lots of places to go with all these articles on strategic planning activities that can fit into a workshop within your strategic planning process.
Putting it Together in a Strategic Planning Process
If you have responsibility for leading the strategic planning process in your organization, we recommend bookmarking this strategic planning activities reference and coming back to it when you need to explore the right mix of exercises to engage your planning participants.
Of course, picking the right menu and bringing it to life is our specialty. Get with us at info@brainzooming.com, 816-509-5320, or the contact us page on the website so we can discuss the approach that makes the most sense for your organization. – Mike Brown