Someone wondered about the range of topics included in the disruptive innovation strategy workshop we delivered recently. Even though the workshop spanned nearly ten hours over two days, we had to narrow the content significantly to achieve the client's innovation objectives.
The reason?
We had a tremendous amount of work to get done!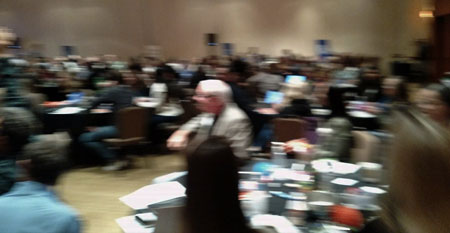 The objective involved taking twenty-three tables of participants through innovation strategy exercises to identify disruptive concepts, craft strategies, document audience profiles, imagine ideas, develop market positions, and propose all the ideas in 9-second pitches.
See why we couldn't cover EVERYTHING we hoped to address?
We led the group through a customized Brainzooming Innovation Fake Book of exercises. We did a few mini-keynotes. We kept the energy going. We had audience participation. And we made sure that every table reporting out received tokens as prizes.
27 Links to Energize Your Innovation Strategy
If you're interested in reviewing some of the innovation strategy content we shared during the workshop, here are links within three major focus areas:
Imagine
Innovate
Implement
The three areas are important because you need all of them to turn ideas into business results.
Imagine
Innovate
Implement
Suffice it to say, we oversaw LOTS of learning and many activities. Nothing, however, was more important than the hard (and rewarding) work of creating and pitching all those innovative concepts!
Looking to similarly boost your team's innovation skills, ideas, and, energy? Contact us to talk about delivering a Brainzooming innovation strategy workshop for your team, right away! – Mike Brown