Brainzooming readers ask questions (btw, we LOVE that about you!). One reader asked recently about stretching a senior executive team's thinking during strategic planning. She is seeking strategic thinking exercises to include in her organization's executive committee senior retreat.
She didn't specifically identify which executive perspectives she wanted to stretch. Yet, her question sent us exploring through Brainzooming Labs for suggestions to enliven their executive retreat.
12 Strategic Thinking Exercises to Stretch Executive Perspectives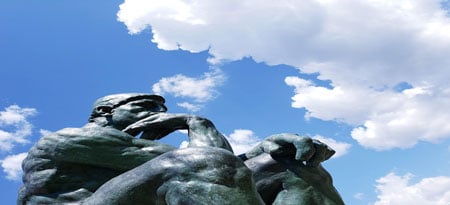 Here are our suggestions for strategic thinking exercises to lead an executive team to consider its current situation and future opportunities in dramatically different ways. Consider these strategic thinking exercises if you need to stretch executive perspectives about:
Your Current Situation
How strong or weak your current situation is: A New SWOT that Nobody Expects
Simplifying a vision or mission statement: 4 Ways to Rework a Faulty Vision Statement
Competition
Emerging and/or disruptive competitors: 15 Ways Disruptive Competitors Aren't Like Your Organization
Competing in new ways: 12 Permissions to Disrupt New Markets
The Future
Addressing the future: 4 Ways to Envision Strategy for the Future
Assumptions about potential vulnerabilities in your processes and markets: Black Swan Events Up Ahead
Innovation
What innovation and disruption mean to them personally: 22 Ice Breaker Questions on Disruptive Innovation
Other industries and situations to look for innovative ideas: Strategy Planning with What's It Like
How the brand can innovate delivering new benefits: A Simple Way to Identify Brand Benefits
Organizational Transformation
Celebrating risk taking: 4 Ways to Celebrate Risk Taking
Transforming the organization: 5 Ways to Reimagine Your Organization
Disrupting tired, old thinking: 13 Exercises to Imagine Disrupting Your Brand
What are your biggest strategy opportunities or challenges? Brainzooming can help!
Do you have a strategy opportunity or challenge where you could use some ideas? Let us know your questions, and we'll try to answer them here.
Are you planning an executive retreat or strategic planning process and want to get it done quickly AND successfully? Contact us! Brainzooming specializes in matching the right strategic exercises and processes to streamline strategic planning and deliver results. – Mike Brown
We'd LOVE you to subscribe to the Brainzooming newsletter? If you haven't before, NOW is the time to stay current on all our actionable strategy, innovation, and branding tools!