We're with a client today, delivering a strategic and creative thinking skills for sales workshop. We're scheduled to have more than 120 of the client's sales team members participate in an interactive, half-day Brainzooming workshop in the Chicago area.
As an outgrowth of the workshop, here is a strategic and creative thinking skills compilation comprised of articles that support the Brainzooming workshop we're delivering. We developed this specific list of topics based on feedback from participants on a pre-workshop survey. This is an approach we always take to ensure the specific areas we cover most closely address the audience's self-identified needs.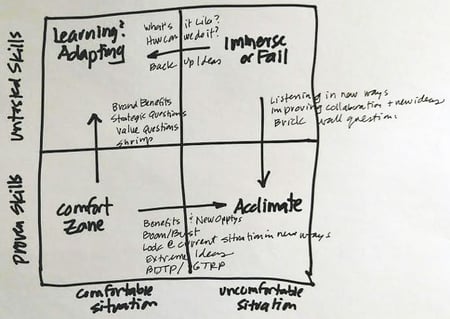 In fact, the graphic above shows how the exercises and tools we'll cover help attendees get out of their comfort zones. This was an issue high on their list of learning objectives and prompted writing a Brainzooming blog post about this matrix just before the workshop.
See, we really do both listen and act on attendees' desired learning objectives.
If you'd like to talk about how we can customize a strategic and creative thinking skills workshop for your organization, let us know at info@brainzooming.com or 816-509-5320. We'd love to customize Brainzooming content to strengthen your team's performance throughout the year!
Setting the Stage for Creative Thinking Skills for Sales
Embracing a Strategic Sales Perspective
Expanding Creative Thinking Skills for Sales