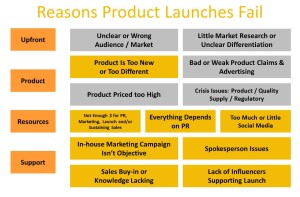 What role do public relations efforts play when new product launches fail? Can public relations be the sole cause?
How significant a role can the public relations strategy for a new product launch play in mitigating other launch-related issues?
And what can a public relations professional do to play a more active, strategic role to contribute toward new product launch success even if problems surface in other support areas?
These questions are all part of a talk I'm presenting at the PR Consultants Group annual conference in Kansas City. Chaired by good friend, Alex Greenwood, of AlexG PR, the session will focus on how public relations professionals can hone their strategic, creative, and innovation-oriented skill sets to be more effective with product launches.
You Tell Me the Strategic Thinking Exercises to Cover!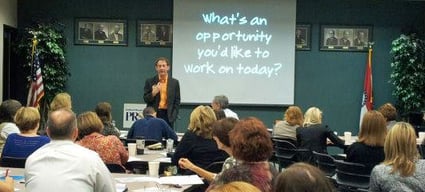 And in what has become a typical presentation technique for me, the strategic thinking exercises for PR consultants we'll cover during the session will ALL be chosen by the group as the presentation progresses.
Yes, that means when the presentation starts, I'll have no idea what specific topics we'll cover!
I've been using this presentation technique more frequently since a "you decide what matters to you and we'll go there" presentation strategy tracks with the Brainzooming brand promise of being highly flexible and interactive when developing successful market strategies.
The presentation draws on ideas about why product launches fail from a Harvard Business Review article titled, naturally enough, "Why Most Product Launches Fail." I've reshaped the article's list of forty reasons for why most product launches fail to a manageable list of twelve reasons with ties to public relations. Even though the audience is comprised of all public relations consultants, the presentation topics will be valuable to anyone involved in developing successful product launches.
In that spirit, here are links to numerous Brainzooming articles on how being more strategic, creative, and innovative can help address the reasons for why new product launches fail.
Developing a Strategic Business Perspective
Being More Strategic
Being More Creative
Being More Innovative
How PR Can Address Reasons Product Launches Fail
Unclear or Wrong Audience / Market
Little Market Research or Unclear Differentiation
Product Is Too New or Too Different
Bad or Weak Product Claims & Advertising
Product Priced too High
Crisis Issues: Product / Quality Supply / Regulatory
Not Enough $ for PR, Marketing, Launch and/or Sustaining Sales
Everything Depends on PR
Too Much or Little Social Media
The In-house Marketing Campaign Isn't Objective
Spokesperson Issues
Sales Buy-in or Knowledge Lacking
Lack of Influencers Supporting Launch
If you're facing a challenging organizational situation and are struggling to maintain forward progress because of it, The Brainzooming Group can provide a strategic sounding-board for you. We will apply our strategic thinking and implementation tools on a one-on-one basis to help you create greater organizational success. Email us at info@brainzooming.com or call 816-509-5320 to learn how we can help you figure out how to work around your organizational challenges.