The original "Taking the NO Out of InNOvation" presentation and innovation ebook were developed when Max Utsler asked me to speak to his class at The University of Kansas on innovation perspectives in marketing communications. In many ways, that innovation presentation in 2004 started me down the career path I've been on ever since.
I'm back tonight with Max Utsler's class sharing the "Taking the No Out of Innovation" presentation along with a new social media project Brainzooming is helping Max and Barrett Sydnor implement for their fall semester classes at The University of Kansas. Dubbed "Blogapalooza" by Max, the social media project will introduce students to blogging and creating social media content in front of multiple audiences . . . but more on Blogapalooza later.
To make "Taking the NO Out of InNOvation" presentation content more accessible from among the 1,000-plus posts on the Brainzooming blog, here are the 8 innovation perspectives contained in the presentation and links to supporting content reaching back to the earliest Brainzooming posts.
Introspective
Create a stronger innovation perspective by understanding your distinctive talents.
Diverse
Surround yourself with a creative team that complements your distinctive talents.
Forgetful
Strike the right balance between using and turning off your expertise to boost creative thinking.
Borrower
Borrow from any inputs you can to trigger creative ideas that you twist and shape to be your own.
Open to Possibilities
Hone your openness to what may today seem impossible or preposterous – that's where you'll find tomorrow's innovation.
Inquisitive
Collect great questions that yield creative ideas and use them all the time.
A Creator
You have to do something with ideas. Selecting the best ones and moving forward with them is central to innovation.
Persistent
Innovation doesn't necessarily come easy. When it comes to the "No" voices you'll hear, be ready to dodge, morph, ignore, or otherwise blow them up. That takes persistence.
Summary
Find New Resources to Innovate

!
FREE Download: 16 Keys for Finding Resources to Accelerate Your Innovation Strategy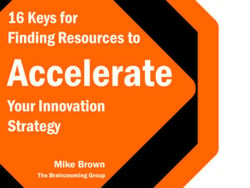 You know it's important for your organization to innovate. One challenge, however, is finding and dedicating the resources necessary to develop an innovation strategy and begin innovating.
This Brainzooming eBook will help identify additional possibilities for people, funding, and resources to jump start your innovation strategy. You can employ the strategic thinking exercises in Accelerate to:
Facilitate a collaborative approach to identifying innovation resources
Identify alternative internal strategies to secure support
Reach out to external partners with shared interests in innovation
Download your FREE copy of Accelerate Your Innovation Strategy today!