What do Lafayette, Louisiana, the south side of Chicago, Google, Cleveland, the Texas hill country north of San Antonio, and a chunk of rural Missouri and Iowa bigger than Connecticut and Rhode Island have in common?
Each leads in delivering a faster, more reliable, and more innovative internet experience. And you would know that if you had attended—and paid attention—during the first day of the Fiber To The Home Council's conference on From Gigabit Envy to Gigabit Deployed: A Community Toolkit for Building Ultra High-Speed Networks being held this week in Kansas City.
When it comes to blazing a trail—even in something as technically involved as telecommunications—the experience of these organizations shows that vision, creativity, and perseverance can be more important than size, financial resources, or the zip code of your headquarters. – Barrett Sydnor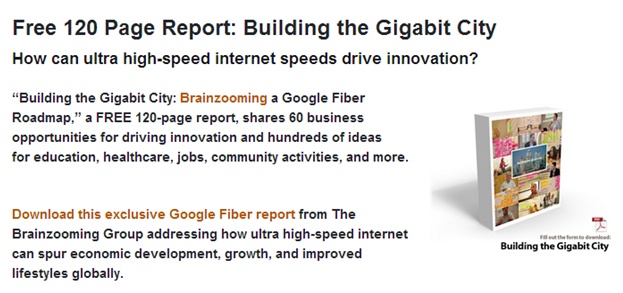 The Brainzooming Group helps make smart organizations more successful by rapidly expanding their strategic options and creating innovative plans they can efficiently implement. Email us at info@brainzooming.com or call us at 816-509-5320 to learn how we can help you enhance your strategy and implementation efforts.