Eight years ago today, I published an article about personal leadership, asking the question, "What would you do with an extra day?"
Well, here we are again, with an extra day for Leap Day.
The inspiration for the original post was losing someone in our department, Lori Schade, to another company. I predicted at the time that it would not be the last time we worked together. That proved to be true; since that time, we have collaborated on two American Marketing Association national market research conferences several years ago and a creative workshop a few months ago.
Last Friday was my day for losses this Leap Year. Several business relationships transitioned, and we discovered one of our key software resources might be going away as we look for a replacement.
The question in the original still holds: What would you do with an extra day?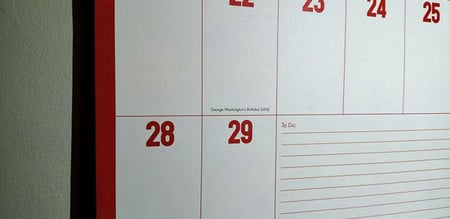 Today is Leap Day, an extra day on the calendar. Use it well, because there are no guarantees on how long our important relationships will last, whether they're in our business or personal lives. So take advantage of every opportunity daily to grow the people around you and to learn from them in turn.
Ask yourself several questions. Are you giving enough of yourself to these important people? Can you see your positive influence on them? Have you helped prepare them to pass on to others the lessons you've shared? Do these people know how much they mean to you? Are you ready to let them go?
To judge whether you are doing this successfully or not, try this. Imagine one of your most important relationships is ending, but you get one extra day with that person. Would you do anything differently on that special day? If the answer is yes, you have some more giving to do.
And as sad as it is to lose someone you enjoy working with, it's among the most gratifying things in business to see some of the very special, talented people I have work with go on to be so successful in their careers. They all make me so proud to have learned from them and to have been a part of their professional growth!
Here's to those extra days - make them count! – Mike Brown
Download our FREE "Taking the No Out of InNOvation eBook to help generate extreme creativity and ideas! For organizational innovation success, contact The Brainzooming Group to help your team be more successful by rapidly expanding strategic options and creating innovative growth strategies. Contact us at info@brainzooming.com or call us at 816-509-5320 to learn how we can deliver these benefits for you.