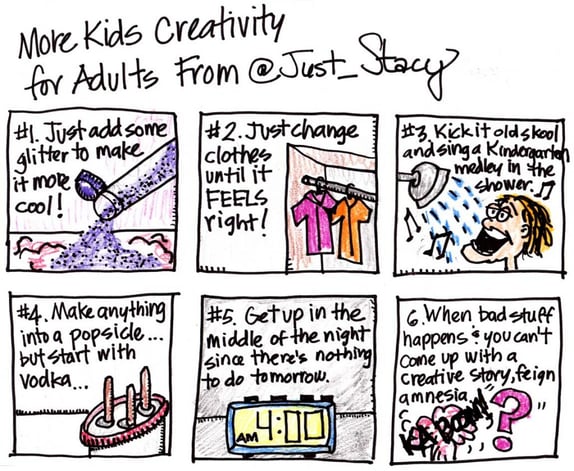 Sometimes guest blog posts are pretty straight forward. Other times, getting a guest blog post done means going the non-traditional route and actually being creative (what a novel concept!).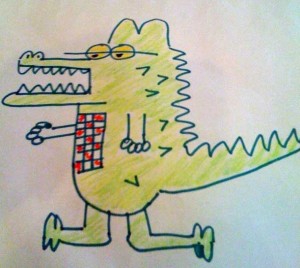 As I mentioned in Tuesday's 10 More Ways to Be Creative Like a Kid post, I've been bugging Stacy Harmon (@Just_Stacy on Twitter) to write her take on kid creativity based on her 3 sons and introducing kid-like creativity ideas at her workplace.
Stacy and I decided to get together for lunch at a local pizza place which has paper on the tables for drawing while you wait (which in our case seemed like forever just to get two mini-pizzas). Given the opportunity to doodle, it seemed like the best way to create Stacy's version of more ways to be creative like a kid was to talk about her summer, find out what the kids are up to, and cartoon it as we went!
We did just that, resulting in today's cartoon guest blog post from @Just_Stacy (her stories, my cartoons), along with the very cool Creative Insta-Gator she drew all from letters of the alphabet. It was a great lunch, a fun post, and a whole new frontier in creative guest blogging!
So if you've ALWAYS wanted to do a guest post for Brainzooming, you're located in the Kansas City area, and you're willing to buy me a mini-pizza for lunch, let me know. I'd love to feature more ideas for ways we adults can get back in touch with the creativity of kids. Enjoy!
To tap into your own extreme creativity, download the free ebook, "Taking the NO Out of InNOvation" to enhance your perspective! For an organizational creativity boost, contact The Brainzooming Group to help your team be more successful by rapidly expanding strategic options and creating innovative plans to efficiently implement. Email us at brainzooming@gmail.com or call us at 816-509-5320 to learn how we can deliver these benefits for you.