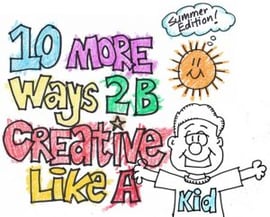 Last time I wrote a blog post on "10 More Ways to Be Creative like a Kid." I was having lunch that day with reader Stacy Harmon and was trying to convince her to write an answer post on being creative like a kid. It wasn't enough to get Stacy to write anything yet, but the post was picked up by an email newsletter and resulted in the biggest day ever on the Brainzooming blog. I'm having lunch with Stacy again today (whose son Cooper suggested the creativity idea, "Glitter makes everything cool"), so the time seemed right for an updated Summer Vacation Edition of "10 More Ways to Be Creative like a Kid!"
Sleep in really, really late. Get up and eat. Go back to sleep. Get up and create.
Hit the swimming pool, forget all your cares, splash around like it's the last day of summer vacation. Go back to work tomorrow - only if you must though.
Throw a pizza party lunch this summer and invite interesting people from different departments you'd like to meet.
When you want to surprise someone with your creativity, tiptoe up behind them and startle them with your amazing creativity.
Take somebody outside and dare the person to do something creative in the next 10 minutes.
Ride roller coasters at an amusement park or fair. Scream your head off. When you get off the ride, put all the mental cobwebs you shook loose into the nearest trash can.
If somebody at work says they're not creative, put them into time-out until they admit how creative they are.
Have a meeting in a break room and make s'mores for everybody in the mircowave (9 seconds cooking time according to my wife, Cyndi).
Write old worn out ideas on a cardboard box. Blow up the box with firecrackers. Video the explosion and show the video at work to people who love old ideas.
Celebrate and cheer wildly when something goes well.
Before the summer vacation season gets away, what things are you doing to be creative like a kid? An in honor of Jim Joseph's comment below about eating ice cream with sprinkles, here's a little ice cream treat thrown in (start it at 1:03...trust me)! – Mike Brown
To tap into your own extreme creativity, download the free ebook, "Taking the NO Out of InNOvation" to enhance your perspective! For an organizational creativity boost, contact The Brainzooming Group to help your team be more successful by rapidly expanding strategic options and creating innovative plans to efficiently implement. Email us at brainzooming@gmail.com or call us at 816-509-5320 to learn how we can deliver these benefits for you.