What a first day at The Big Ideas in Higher Education Conference (#BigIdeas12)!
I flew in from Kansas City Thursday morning and arrived at Rutgers University just as the first presentation was about to begin. And in keeping with what happens at church if you arrive late, I was placed in the front row, first seat - about 6 feet from the interviewing area. For someone who usually hangs back, it put me right in the heart of great presentations on social networking, disruption (particular of higher education), innovation, and incredible stories of the triumph of the human spirit.
Suffice it to say there will likely be multiple recap posts from The Big Ideas in Higher Education Conference on the Brainzooming blog.
I'm doing an innovation workshop today called "Making Big Ideas Happen." My charge is to integrate all fifteen #BigIdeas12 presentations from today and make strategic connections to help attendees of The Big Ideas in Higher Education Conference to apply the lessons from an eclectic group of TED-like presentations into their work and personal lives. While I tried to make some guesses upfront about what presenters would talk about relative to innovation and strategic connections, there were definitely late night adjustments to the "Making Big Ideas Happen" session to ensure it reflected all the incredible content from the opening session.
To support "Making Big Ideas Happen," here are links to a variety to articles supporting topics we'll be talking about in today's workshop. And once again, while this is targeted for workshop attendees, the concepts are of benefit to a much broader audience: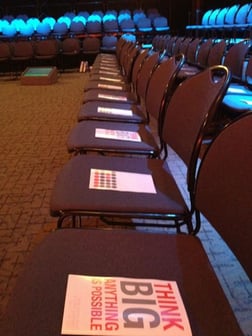 Capturing Big Ideas and Strategic Connections: Big Ideas in Higher Education Conference – This setup post for The Big Ideas in Higher Education Conference lends itself to looking for strategic connections in any situation where you're processing content
Did You Know Video: Although a few years old at this point, this video gets your attention with a compelling presentation of the demographic and technological realities of modern education.
6 Strategic Success Skills for Today's Workplace – Recaps some of the educational and attitudinal changes needed to prepare students with the success skills needed to enter today's workplace.
Brainzooming – First Questions – A short and sweet article on the fundamental strategic question to ask.
Strategic Connections – 3 Tips for Identifying More Opportunities – These 3 steps provide a strong way to look for many more and richer strategic connections.
Extending Brainstorming Ground Rules to Everyday Business Life – There are typical approaches to brainstorming that can benefit coming up with ideas in brainstorming sessions. If you work at it, you can extend this approach to every day work life too.
Look Inside for Distinctive Talents – 5 questions to identify your distinctive talents as a first step to taking better advantage of them to shape your creative pursuits.
Why strategic thinking doesn't happen, part 3 – Somebody's missing – A brief case for the value of incorporating individuals with different thinking and implementation styles to get more innovative thinking.
Crowdsourcing Diverse Input – 3 Ways to Make Crowdsourcing Work Harder – Crowdsourcing for input is great, but if you want it to be fruitful for the crowd and the requesting organization, providing appropriate structure is important.
6 Ways Social Networking Platforms Can Boost Creative Thinking - Social networking platforms can be an outstanding source to boost creative thinking - if you use them well.
Benjamin Zander and the Art of Possibilities - A small snippet of the wonderful Benjamin Zander presentation where he lets us in on the Art of Possibilities with the vital admonition: It's all invented!
A Poor Question for Valentine's Day: "Can You Change Your Look?" - If you're always looking at the same situation from the same place, you'll see the same things. Change how you look at the status quo and find incredible new ideas.
15 Ways Whoever Is Going to Disrupt Your Market Isn't Like You- Trust me, higher education played the part of a big fire hydrant during day one, and there was a lot of peeing going on around it. The forces that disrupt higher education aren't going to have pretty quads and columned buildings!
11 Strategic Questions for Disruptive Innovation in Markets - If higher education professionals (or any of us) are up for truly disruptive innovation, here are 1 strategic questions you can use to start identifying opportunities.
We've Seen the Enemy & They Don't Look Anything Like Us - More questions to begin understanding who might be the surprising disruptive forces in a market. One critical element is to generalize and understand what is like your current situation.
Change Your Character - One of the easiest ways to come up with new ideas is to delegate your innovation challenge to someone else. Here's a creative thinking exercise that does just that.
Creating Memorable Experiences - There are three keys to creating memorable experiences for any event - whether it's a special event or an event that happens every day.
Creating Intriguing Social Media Content – 3 Fundamental Steps - There are also three keys to identifying and creating intriguing social media content. Get these right, and you'll have much stronger content.
Social Media Content Ideation: Think – Know – Do - Sure you get to talk about topics of interest to your business. But you only get to talk about them after you've thought about what your audience really wants to hear about in their lives. Then you can fit what you think, know, and do to into their expectations.
Five Innovation Lessons from Improv Comedy – by Woody Bendle - A whole lot of improvisation is based on fantastic planning and anticipation. It's ironic, but it's the truth.
Creating Change and Change Management – 4 Strategy Options - Some change can be incremental, but often an incremental approach to change won't do. In those cases, here are three other strategy options to consider for creating change.
Being Perceived as an Innovative Leader - Not all innovative leaders are doing outrageous things (sorry if you think otherwise, but it's true). Many times, being an innovative leader means innovating processes to allow innovation to happen.
Share the Credit! - Give more credit for successes to others, and don't take much (or any at all) for yourself.
Strategic Thinking – Do Your Own and Let Us Know What You Think - You don't have to simply spit out what you hear form business experts. Consider what they have to say, then do your own strategic thinking and share it.
Outsmarting Fears about Your "Inferior" Expertise - Nobody is better at telling your own story than you. So start telling it in multiple channels! - Mike Brown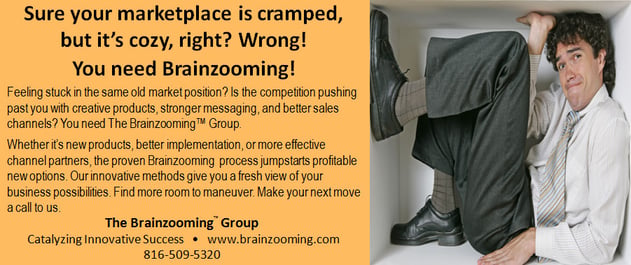 The Brainzooming Group helps make smart organizations more successful by rapidly expanding their strategic options and creating innovative plans they can efficiently implement. Email us at info@brainzooming.com or call us at 816-509-5320 to learn how we can help you enhance your strategy and implementation efforts.