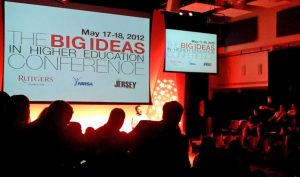 The Big Ideas in Higher Education conference (or #BigIdeas12) was several weeks ago, and I am still missing it. The experience was a very special two days. Going back through my notes and tweets, here are nine ideas (some bigger than others) the Big Ideas in Higher Education conference triggered for me:
You're life's goal: absorb as many influences as you can and then mix them up so well that the mixture can only represent you.
When you want to change the world, start with your distinctive talents. Then go from there.
I don't care how radical you think you are, if you REQUIRE someone to share your world view in order to interact with you, you're part of the conformity problem. Invite. Don't require someone to be like you.
There is no need to apologize for shortfalls others will never notice.
What do you do when things are really, really hard? Rejoice, because that means if you persevere, few (if any) other will.
How you react to someone who says they're going to kick your business model's ass says so much more about how likely and how soon it will happen than any research you could do about the question.
How good are you at asking for opportunities to do incredible things? How can you improve at it?
Don't wait for an emergency to act when you know you're going to need something at some point in the future anyway.
If you believe God created the world, why wouldn't you look to God as the ultimate guide to creativity?
That is just a start, with a couple of more potential #BigIdeas12 posts in the offing! - Mike Brown
If you're facing a challenging organizational situation and are struggling to maintain forward progress because of it, The Brainzooming Group can provide a strategic sounding-board for you. We will apply our strategic thinking and implementation tools on a one-on-one basis to help you create greater organizational success. Email us at info@brainzooming.com or call 816-509-5320 to learn how we can help you figure out how to work around your organizational challenges.