I attended an excruciatingly long 2 hours of a conference recently; the conference had all the potential for creating event magic, but it failed to deliver.
The conference experience, however, made me recall the Big Ideas in Higher Education conference hosted at Rutgers University earlier this year. That conference was all about creating event magic. Big Ideas set out to create a different type of educational conference, and it succeeded wildly through the venue, production, and content. The kudos for that success go to the two primary forces behind the Big Ideas in Higher Education conference: Tony Doody, Director of Programs and Leadership at Rutgers University and Courtney O'Connell, Assistant Director - Leadership Training.
Creating Event Magic at the Best Event I Attended this Year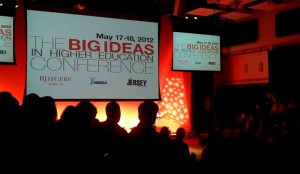 My recent conference experience strongly suggests at least one event production team (and likely many more out there) don't understand the types of strategies Courtney and Tony brought together to create event magic.
As a result, it's worth revisiting seven lessons in creating a disruptive, magical conference experience courtesy of the whole Big Ideas in Higher Education conference production team:
1. Disruption doesn't happen close to home, so go on your search
Rather than simply produce another higher education conference, the Big Idea team looked to other types of conferences outside education for disruptive ideas. Big Ideas wasn't going to feature an endless string of higher education professionals presenting, even though that is what a higher education conference is expected to be. The conference format was assembled from inspiration outside higher education, including the idea of having varied presenters addressing non-higher education themes still applicable and valuable to educators.
2. If you can't get someone to let you join them, then borrow, modify, and go
The Big Ideas in Higher Education team approached TED about creating a TEDHigherEd event, but was told TED owns all subject-focused events. Not wanting to be TEDxRutgers since that would be too narrow, they borrowed elements of TED-style presentations (20-minute presentations, no podium, varied topics) and adapted (having a host conduct interviews and Q&A, Jimmy Fallon-style games at the end of certain presentations, less pretense than TED) to fill the first day of Big Ideas. Because Big Ideas wasn't part of TED, it likely provided much more freedom to customize the event to the audience needs.
3. Get your cool factor right so people want to join
Early on, the Big Ideas website clearly conveyed it would be radically different than any other higher education conference and dramatically more exciting than most other conferences across industries. Since the Big Ideas website contained a manifesto and used buzz-worthy images and language to create a cool brand impact, it was easier to bring additional speakers on board who wanted to be part of the event.
4. There are many assets and resources with value other than money
Tony shared a budget number with me that was incredibly low. Having created many expensive looking events on less than shoestring budgets, I was in awe of how the Big Ideas team did it. They took advantage of in-kind arrangements, trade-outs, relationships, and already-available assets to create an event that COULD have cost at least an order of magnitude more than it did.
5. An event's physical setting has to support the brand experience promise
Rather than a standard meeting room, Big Ideas used an "arena" concept. The organizers first experienced the look when a Rutgers meeting room in the Livingston Student Center served as a TV studio for Anderson Cooper 360. Pipe and drape were used to shorten the room and create a black box atmosphere unlike any conference I'd ever attended. Seats on risers put the audience into the action of the presenters, with no opportunity to sit back and not engage.
6. Showcase emotional impacts throughout the event
At various times, Big Ideas was funny, heartfelt, dramatic, surprising, and sincere. And that was just my starting list of emotions thinking back on the content. Rather than fight or wrongly use the emotion of the event, Big Ideas applied a nearly perfect mix of presentations, interviews, and brevity (with a willingness for longer segments if appropriate) in its format to create a strong emotional line through the whole conference – without one panel discussion (at least that I saw).
7. Let your talented people shine
There were many people involved in making Big Ideas happen, but although Courtney O'Connell and Tony Doody were leaders, they were in the background for nearly the entire event. Instead of being front and center to grab the spotlight, they put a whole range of talented team members and presenters front and center. That's what a true leader does, trust me.
This is just a starter for Big Ideas lessons
I love events because incredibly produced events intertwine strong strategy and rigorous execution from start to finish. Having produced events, I know these seven lessons don't even begin to cover all the lessons from Big Ideas. But if you're on the hook to deliver a great event, if you follow just these seven, your event has at least a fighting chance at being magical, too.
And if you're still struggling with developing a unique conference experience, call us to put together your event strategy and creative platform. We'd love to help you create event magic; it's a big part of what we do for clients all the time. - Mike Brown
Download the free ebook, "Taking the NO Out of InNOvation" to help you generate fantastic new ideas! For an organizational creativity boost, contact The Brainzooming Group to help your team be more successful by rapidly expanding strategic options and creating innovative plans to efficiently implement. Email us at info@brainzooming.com or call us at 816-509-5320 to learn how we can deliver these innovation benefits for you.