Emma Alvarez Gibson and I were talking about identifying strategic themes within tens or hundreds of ideas from a strategic planning workshop or from thousands of comments within a survey.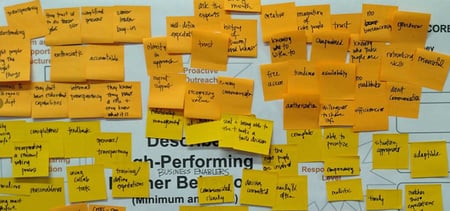 Other than a big dose of help from outside forces, what are dependable ways to identify meaningful strategic themes?
This is important because latching onto the right groupings for ideas will make all the difference when highlighting and simplifying smart strategy recommendations.
As we chatted, I perused the Brainzooming website looking for articles on how we surface strategic themes. Posts on making strategic connections address some aspect of our approach, yet they cover only part of the story.
10 Cues to Identify Strategic Themes among Ideas

Reflecting on our Brainzooming process, we use all these cues to identify potential strategic themes among THINGS THAT:
We know correlate
Seem to correlate
Represent natural groups you see or experience elsewhere
Happen at the same time
Appear close to one another
Possess similar characteristics or attributes
Incorporate similar inputs or outputs
Undergo similar processes
Demonstrate unusual but frequent connections between each other
There are likely more of these.
Yet, you don't want too many cues. You must be able to quickly run through the strategic theme cues whenever you are faced with large a volume of open-ended comments.
Based on our experience, finding just the right number and range of strategic themes is one of the best methodologies you can employ to ensure broad strategic thinking AND clear steps to implement. – Mike Brown
Engage employees and customers with powerful questions to uncover great breakthrough ideas and innovative strategies that deliver results! This Brainzooming strategy eBook features links to 600 proven questions for:
Developing Strategy

Branding and Marketing

Innovation

Extreme Creativity

Successful Implementation