At today's Social Media Club of Kansas City (SMCKC) breakfast, The Brainzooming Group is presenting an update on the Google Fiber "Building the Gigabit City" brainstorming output from the session we facilitated in early October. The Gigabit City session was designed to generate as many ideas and concepts as possible for how Google Fiber can be used to change lives in Kansas City. This means the time during the live strategic thinking session was disproportionately devoted to brainstorming ideas, with relatively less time on prioritizing, ranking, and analyzing the ideas.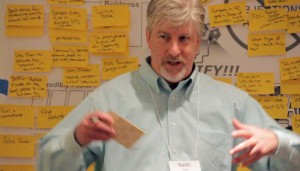 The intent with the Google Fiber brainstorming session results (available for download on Brainzooming.com on November 10, 2011) are they will be a platform to advance thinking and progress based on the input of hundreds of people with varying perspective on how ultra high-speed internet capabilities can shape Kansas City and other communities.
Whenever you have brainstorming output that hasn't been narrowed and analyzed, there are a variety of steps you can take to develop and move it forward toward implementation. For those in Kansas City, the Building the Gigabit City effort is linked to the belief that success for the Google Fiber roll out depends on every citizen knowing what they can do with the ideas and concepts shared in our report.
11 Next Steps with Brainstorming Output
Here are 11 next step actions people can take with the Gigabit City report that also largely apply to brainstorming results you may be working with yourself in your work:
Share results with those who have not been exposed to them. This effort's success comes from getting the work to as wide an audience as possible who can advance the concepts.
Ask for more information and insight. If you have questions or need deeper understanding on the topic, reach out for additional insights.
Combine concepts and ideas to create newer or bigger opportunities. If a particular idea or concept does not really demand gigabit speeds, add something to the idea that ups the ante.
Diversify concepts by soliciting additional input. Not everyone and every point of view was represented in "Building the Gigabit City," so incorporating additional variety to the ideas is a positive.
Simplify the ideas while making them more revolutionary. We find the strongest (albeit rarest) concepts are incredibly simple yet still revolutionize a market. Move a potential concept in that direction!
Enrich the concepts with greater technical depth. We focused primarily on concepts related to needs, opportunities, and challenges among various community groups. There are still many opportunities to dramatically incorporate technology in realizing the concepts.
Dissect the concepts to narrow and exploit a hidden strength. You may see an opportunity within an idea or concept that is not getting due focus. Strip away the excess and build off the strong nugget you see.
Brainstorm some more on the groups, concepts, and ideas we explored. There is always an opportunity to enhance previous thinking with additional smart, innovative perspectives.
Support strong ideas with the tools you possess. Great ideas benefit from additional people, resources, and funding to bring them to life. Pick an idea yourself or collaborate with others to take action.
Solve the underlying need an idea or concept is addressing by figuring out how to accomplish it. Successful innovation is all about actually making something positive happen.
Ignore all these ideas and concepts in favor of moving ahead with your own ideas to exploit Google Fiber more effectively. If you do not see something that moves you to action in this report, generate your own ideas to develop.
Google Fiber "Building the Gigabit City" Recap Available November 10
Remember, The Brainzooming Group will release the draft Google Fiber "Building the Gigabit City" report as a free download on November 10. We look forward to your reactions and the next steps that emerge from it! - Mike Brown
The Brainzooming Group helps make smart organizations more successful by rapidly expanding their strategic options and creating innovative plans they can efficiently implement. Email us at brainzooming@gmail.com or call us at 816-509-5320 to learn how we can help enhance your marketing strategy and implementation efforts.