By Friday night, we'll know the Elite Eight in NCAA college basketball. These eight teams that will vie Saturday and Sunday to play in the national championship basketball game the following week.
Keeping with the eight theme, here are eight new questions from the Brainzooming R&D Lab to boost your creative thinking skills.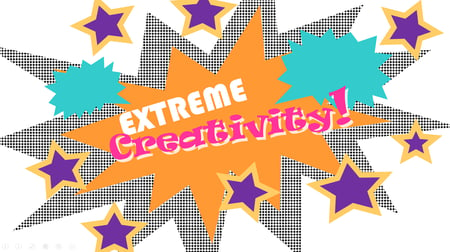 There are two extreme creativity questions to stimulate breakthrough ideas from four perspectives: Aspiration, Authority, Disruption, and doing More.
Aspirations
What would our goals look like if we 10x'd all of them?
How will we solve everything that has seemed impossible for us to do previously?
Authority
What are the stupid unwritten rules in our industry we must upend right away?
What internal policies and procedures should we start ignoring immediately to innovate faster?
Disruption
What can we purposely break to force cutting all ties to how we do things now?
What can we do to totally befuddle our competitors, creating chaos and inaction?
More
How can we double our innovation capacity by end of day tomorrow?
What can we do to be 10x faster than we are now doing __________? (Fill in whatever area you need greater speed)
Creative Thinking Skills and Breakthrough Ideas
To develop these questions, we revisited our original source for Brainzooming extreme creativity questions: Peter's Laws. I saw these principles, subtitled the Creed of the Sociopathic Obsessive Compulsive, in a New Orleans poster shop.
I bought the poster because the rules closely match how the creative geniuses I've experienced approach business. For people struggling with working around these individuals, I thought the list would help them better understand their strategies.
After launching The Brainzooming Group, I revisited Peter's Laws, turning them into questions to inspire extreme creativity. This exercise produced my biggest personal insight about creative thinking skills: When you need huge thinking, don't ask for big ideas; instead, use big questions to cultivate extreme creativity and breakthrough ideas.
The strategy works tremendously well. That is why I share our original list of extreme creativity questions in nearly every Brainzooming strategic and creative thinking workshop. In a recent workshop, one attendee stated he didn't have the creative thinking skills to produce wild ideas. He wondered how he could get them. I smiled and said, "Man, do I have a technique and the questions for you!" - Mike Brown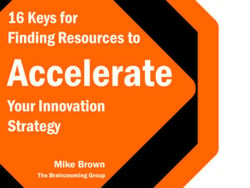 You know it's important for your organization to innovate. One challenge, however, is finding and dedicating the resources necessary to develop an innovation strategy and begin innovating.
This Brainzooming eBook will help identify additional possibilities for people, funding, and resources to jump start your innovation strategy. You can employ the strategic thinking exercises in Accelerate to:
Facilitate a collaborative approach to identifying innovation resources
Identify alternative internal strategies to secure support
Reach out to external partners with shared interests in innovation
Download your FREE copy of Accelerate Your Innovation Strategy today!