I long ago learned an important lesson about corporate branding decisions: no matter how many intriguing, mentally-engaging brand strategy conversations you have among senior executives, those conversations NEVER lead to final decisions. No, corporate branding decisions are only resolved when someone needs a new business card, trade show booth, brochure, or website.
When you have to physically display a logo or depict how two brands relate to each other when they are placed together? THAT is when executives finally make corporate branding decisions.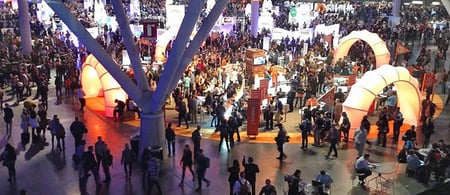 A conversation with an upcoming client brought this lesson to mind. They asked whether they should include the organization's logo in the official email signature.
Addressing that question led to an extended conversation about reasons why they should or should not include the logo. During the conversation, we also tackled what the organization's multi-part name is supposed to mean (because no one seems to know) and why its logo looks like something it isn't. We also touched on whether one of their product names actually has much greater brand equity than the overall organization (which changed its name to an acronym several years ago).
See what I mean?
A question about the email signature quickly got us (well, at least me), questioning their whole naming and identity strategy.
If you're struggling with corporate branding decisions no one is moving forward to resolve, maybe it's time to design new business cards. Getting physical like that will prompt the decisions you need to make to clarify your brand strategy and move into action. – Mike Brown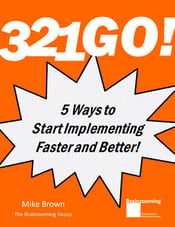 In the new Brainzooming strategy eBook 321 GO!, we share common situations standing in the way of successfully implementing your most important strategies. You will learn effective, proven ways to move your implementation plan forward with greater speed and success. You'll learn ways to help your team:
Move forward even amid uncertainty
Take on leadership and responsibility for decisions
Efficiently move from information gathering to action
Focusing on important activities leading to results