Short Story: Look for specifics and things that people can actually do or perform to move creative thinking into action.
How do you move from creative thinking into action?
That was a persistent question during a recent Brainzooming strategic thinking workshop that also included a heavy dose of content on creative thinking. Two of the client's senior staff members said this was a question they expected us to answer during the strategic thinking workshop. They also wanted a sense of when and why you should think creatively. Specifically, one wondered whether a problem is necessary as a precursor to creative thinking.
I loved the questions. They signaled these two guys had likely been through similar workshops touching on creative thinking that were big on creativity and light on applying the ideas to daily work.
Their qualms about applying creative thinking are familiar. Working in a B2B marketing environment, I had to develop a knack for applying creativity quickly directly to solve problems and capitalize on opportunities. We did not work in an environment with tolerance for a fun creative path that didn't deliver real world answers expeditiously.
Does there have to be a problem to justify creative thinking in a work setting?

The workshop participant asking about creativity and problems was persistent. I changed the workshop's flow to answer his question early, using a chart we previously published and regularly use with clients. It helps assess how broadly an organization perceives a need for improved results compared to its frustration with the status quo.
Placing your organization on the chart helps identify how you apply creativity and the related expectations for your efforts. In the lower right quadrant, creativity is likely first applied to helping the organization realize the need for change. As you build that understanding and hope for improvement, you shift creativity toward exploring what it will take for a better future. If your organization is starting in the upper right though, you can apply bigger creative thinking right away toward transformative ideas for bringing about dramatic change.
Turning Creative Thinking into Action
When it comes to shifting from ideas into action, that's where everything we've published over the last several years about implementation, project management, and creating strategic impact comes into play. That work is oriented toward preparing and activating an organization to act on creative ideas.
Addressing the specific workshop query about how to move creative thinking into action, I shared five questions you can use to push a group more fascinated with ideas than acting toward specific tactics:
What will it take to accomplish this?
What are the first actions it will take to move forward?
Can you identify a specific individual that will have responsibility for implementing this?
What would you walk out here and do based on what we've talked about here?
What verbs (that demonstrate what people will do) are the first words for the tactics to make this happen?
These and comparable questions help curb coming up with more questions to push for the specifics leading to action.
And in case you were wondering, my action-oriented friends walked away from the Brainzooming strategic thinking workshop satisfied we gave them the types of help they were looking for at the start! – Mike Brown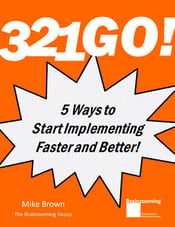 In the new Brainzooming strategy eBook 321 GO!, we share common situations standing in the way of successfully implementing your most important strategies. You will learn effective, proven ways to move your implementation plan forward with greater speed and success. You'll learn ways to help your team:
Move forward even amid uncertainty
Take on leadership and responsibility for decisions
Efficiently move from information gathering to action
Focusing on important activities leading to results