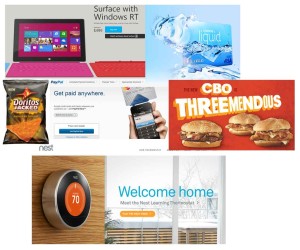 A MarketingProfs story highlighted ideas about the best and worst product names for the year. Since a Brainzooming post with eight creative thinking questions behind creating cool product names was at the top of our most viewed articles list, the MarketingProfs article was fodder for another post full of creative questions.
But the Brainzooming strategy isn't to give you list of cool product names and simply say what's cool about them (especially since that's what the MarketingProfs piece does).
Instead, we took a look at what might have been behind the six best cool product names according to MarketingProfs:
From the background MarketingProfs provided on each of them, we devised a list of creative thinking questions that COULD HAVE yielded these six best product names.
Think of it as our best of product name generator list!
As with the previous cool product names post, these creative questions are intended to help you generate intriguing, real-sounding product name ideas. By asking some or all of these seventeen creative thinking questions, try to generate as many potential cool product names as possible. Afterward, you can work with individual words, phrases, and their combinations for further brainstorming before prioritizing the options having the most strategic and creative possibilities.
17 Creative Questions for Cool Product Names
Here are seventeen new creative thinking questions to add to your product name generator list:
What words describe the product's most significant characteristics?
If the product were a character on a reality TV series, what would the show be about? How would the other characters on the reality TV series describe your product's most prominent features?
What words describe what the product looks like? Describe how the product feels to the touch? What sounds does the product make when it is being used? How could you describe the smell the product has (even if it doesn't have a smell)? Whether or not the product has a taste, what words describe what it tastes like?
What words or phrases are antonyms (i.e. opposites) of the typical customer complaints about other products in the category?
What characteristics or needs should a customer have to get the most from the product?
If you mainly use real words for other product names, what faux words would describe this product? If you mainly use faux words, what real words would describe this product?
If you mainly use acronyms for other product names, what phrases describe this product? If you mainly use real words/phrases for product names, what acronyms work with this product?
What words describe the people who use the product? What words describe where, when, why, how, and what it's used for by the product's best customers?
Reviewing the list of words generated so far, what are more unusual or exaggerated synonyms for each word you generated as names?
What cool product names made your best of list?
Were there cool product names that stood out for you? And if so, what creative questions would you ask to come up with more product name ideas like them? - Mike Brown
The Brainzooming Group helps make smart organizations more successful by rapidly expanding their strategic options and creating innovative plans they can efficiently implement. Email us at info@brainzooming.com or call us at 816-509-5320 to learn how we can help you enhance your strategy and implementation efforts.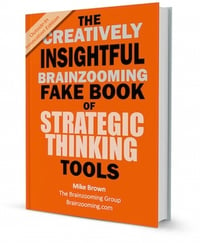 Are you making the best use of customer input and market insights to deliver innovation and growth? Creating successful, innovative new products and services has never been more dependent on tapping perspectives from outside your organization.
This new ebook features sixteen strategic thinking exercises to help you ideate, prioritize, and develop your best innovative growth ideas. Download this free, concise ebook to:
Identify your organization's innovation profile
Learn and rapidly deploy effective strategic thinking exercises to spur innovation
Incorporate crowd sourced perspectives into your innovation strategy in smart ways