I was standing in line at the Baltimore airport, about to board an earlier-than-planned Southwest Airlines flight through Chicago on my way back home. I was trying to shake a lingering stress headache, while feeling good about getting home an hour earlier, even though I'd passed up my direct flight to be able to do it.
Suddenly, Facebook Messenger buzzed. It was a message from my buddy, Mess Wright: "Hello. Are you there?"
I responded, saying I was about to board a plane, but had a minute. Mess let me know that she's working on a new idea, had a variety of potential names, and wondered if I'd review them. I asked for more background information to determine how well the names were working to convey her brand. Mess sent a few paragraphs plus photos of the list of possible names.
On the plane, I decided, based on the headache, to generate other possible names versus trying to concentrate and read the one from Mess. Without an available list of our Brainzooming cool product name questions, I used the descriptions Mess sent to identify strategic starting points. I began imagining what words might pertain to the new brand's:
Personality
Benefits
Customers
Business Category
Other Audiences
I also left myself some mental white space to riff on any other names that came to mind.
When we reached Chicago, I forwarded a list of 106 potential names generated before landing at Midway. Mess responded later that several of the cool product names were resonating, along with others from her original list.
This past Friday and Saturday, Mess sent possible logo executions incorporating suggested name number eighty-three from my list. By this weekend, she's using our online branding lab tools to further explore brand positioning, content, visuals, and product ideas.
How to Generate 100+ Cool Product Names in a Hurry!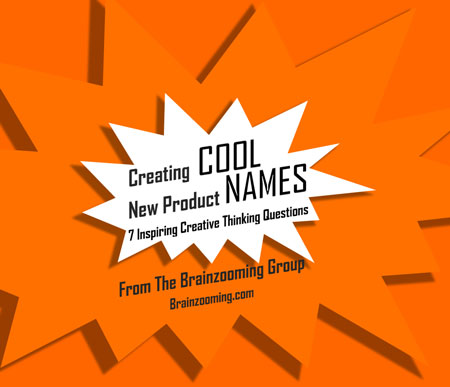 I see three take-aways from this story:
The benefit of creative structure to generate LOTS of ideas, because the winner may be cool product name number eighty-three
The power of strategy-focused creative thinking questions to help generate a high proportion of on-target ideas
The speed with which you can move from idea to prototype when you are determined and use resources from around the world
This mini-cool product names project was a welcome distraction during the BWI-MDW flight. Without it, I'd have had a full-on head explosion from the detail I discovered about my Chicago connection AFTER I was on the plane. More about that customer experience fail.
In the meantime, if you want help generating names, we have a FREE infographic that features 7 inspiring creative thinking questions to create cool product names! Download your copy today! - Mike Brown