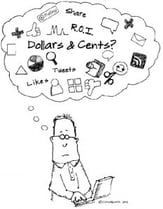 We were wrapping up the current phase of a corporate communications strategy planning effort for a large B2B company and discussing our client's social media content strategy. The topic was the how / when / why the company should be creating social media content more actively. One topic of the social media strategy discussion involved, as it typically does, achieving the right balance of blog topic ideas that are both interesting to customers and prospects while having natural, non-obtrusive connections to your company.
When you are a large B2B company considering a dynamic social media content strategy, there are definitely different content options than for a smaller organization. With more employees, customers, and functional areas, there are many more blog topic ideas your large B2B company can integrate into its content strategy.
22 Large Company B2B Blog Topic Ideas
For B2B marketing executives struggling to see where blogging fits into your customer growth strategy, here are twenty-two potential blog topic ideas along with six key messages your social media content sharing can actively support:
You Have a Dynamic, Learning Organization
Learnings related to business and personal success for customers
Business books, magazines, and blogs your executives find beneficial
Interactions when company executives and personalities were meeting with customers and industry figures
Your Company Is Up-to-Date on Industry Issues
Commentary on important industry stories
Recaps of social media sharing by you and other industry players
Perspectives on general news stories with an impact in your market
You're Company Is Focused on Customer Service
Challenging customer and prospect questions answered
Solutions to frequent customer issues
New issues you're solving for customers
Hacks you've figured out to help customers get more from their own processes
Special things you've done to help customers achieve their goals
Recent customer successes
Your People Are Smart and Outstanding Representatives
How your company is making itself a better place to work
Community service activities in which your employees are involved
Ways your people demonstrate kindness in the workplace
Perspectives from experts inside your organization
Your B2B Company Is Human
A funny business-oriented event or occurrence
A customer perspective on an event your company held
An intriguing or off-the-wall story in your industry
Your Company Has a Community Focus
Government or public affairs issues your organization is involved with that affect customers
National issues your company is addressing that have local community interest
Local issues your company is involved with that have a broader impact
What Could Your B2B Company Be Blogging About?
While someone suggested to us the other day that every big company has already nailed social media and is moving on to deeper integration of social business in their processes, evidence still suggests many B2B companies may be pursuing social media, but haven't found the best social media content mix yet. How about your company - especially if you are in the B2B market - are you blogging? And if so, what is your brand blogging about? - Mike Brown
If you're struggling with determining ROI and evaluating its impacts, download "6 Social Media Metrics You Must Track" today! This article provides a concise, strategic view of the numbers and stories that matter in shaping, implementing, and evaluating your strategy. You'll learn lessons about when to address measurement strategy, identifying overlooked ROI opportunities, and creating a 6-metric dashboard. Download Your Free Copy of "6 Social Media Metrics You Must Track!"