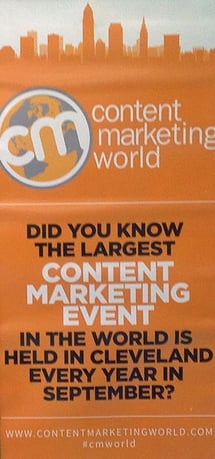 Cheri Tabel of The Pert Group and I are presenting at one of the Industry Summits added to this year's Content Marketing World. It's fun to be presenting with a client about learnings from their collaborative blog. It's also wonderful to return to Northeast Ohio where I honed much of the Brainzooming methodology back in my corporate days. Additionally, since Content Marketing Institute founder Joe Pulizzi is the most orange-loving guy I know (next to me) and paints the town and conference orange, being at Content Marketing World feels just like home before even getting there!
191 Tips and Tools for Better Content Marketing
Cheri and I will be presenting on "191 Tools and Tips You Can Use Tomorrow for Content Marketing & Social Media." Yes, you read that right. ONE HUNDRED NINETY-ONE tools and tips in 45 minutes. I guess you could say it is going to be a very fast-paced presentation. While event attendees can download the presentation directly, I wanted to share links to a variety of Brainzooming posts underpinning the content for the 191 tips and tools presentation. Beyond our catch-all What to Blog About and How –Blogging Content Primer and the Brainzooming Social Media Strategy Framework to Maximize Social Networking Impact, here are several other posts with content featured in our Content Marketing World session:

If you're struggling with determining ROI and evaluating its impacts, download "6 Social Media Metrics You Must Track" today! This article provides a concise, strategic view of the numbers and stories that matter in shaping, implementing, and evaluating your strategy. You'll learn lessons about when to address measurement strategy, identifying overlooked ROI opportunities, and creating a 6-metric dashboard. Download Your Free Copy of "6 Social Media Metrics You Must Track!