Today is Thanksgiving in the United States. It used to be a holiday steeped in religion and prayers of thanks for blessings we have received.
Now, it seems to be less about giving thanks and more about prayers of supplication:
So while there are still lots of prayers involved with Thanksgiving, they are hardly the types of prayers one might hope for on this day set aside to reflect on our blessings.
Speaking of Blessings in the Challenging Parts of Life
Thinking about the past few years, the most important thing I've learned is there are blessings in everything we're presented in life – whether we perceive those things as good OR bad.
That hadn't been my mindset before. Previously, I looked at good things as blessings and (apparently) bad things as annoyances that were there primarily because of something going awry. And those things needed to be FIXED to turn them into blessings.
Through a lot of reflection (and listening to a lot of EWTN), it's become apparent how much good comes out of things I'd have considered as debacles just a few years ago.
One example?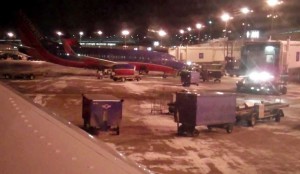 Early in 2011 I was headed to Columbus, OH to work with Nate Riggs for several days of client meetings. Since it was February, I purposely booked my flight to arrive the day before to account for any potential weather delays. Sure enough, I flew in a day ahead of the great blizzard of 2011.
Just as we were pulling into Nate's office, I received a call from our client asking when I was planning on getting into town. He informed me they not only had an emergency all-department meeting been scheduled for the next day (when our meetings were supposed to be going on), but because of the blizzard, the company was likely going to be on ½ days for the next several days. His hope was that I hadn't left Kansas City so we could simply cancel everything.
The old me would be at the peak of frustration from having traveled to Ohio to have the client tell me our meetings (which we were told were a big deal to get done ASAP) were now in several days of TBD status.
The newer me realized there must be some reason I was supposed to be in Columbus, and it was important to sit back and see what it was.
I learned the reason the next morning, when our suddenly open schedule provided the opportunity for Nate and I to visit the Arvey store and meet Cheri Allbritton. Our visit probably wasn't more than 20 minutes, and it's the only time Cheri and I have met in person. But that time with the three of us talking in her office was a vital part of cementing a friendship that has flourished online. And this friendship was especially important as Cheri went through a very difficult 2011. I had the blessing to learn from the grace with which Cheri handled the real life challenges she was facing.
Without the snowstorm, there never would have been time to meet.
And guess what?
We got all our meetings done in a compressed time frame, and even though Chicago had been shut down the day before, I flew through Midway with no delays.
That's only one example. I could go on with others, but won't . . . at least not right now.
Being Thankful
So here's my prayer for you on Thanksgiving: that we're all able to embrace and learn from the challenges we face – big and small – and have the gift of patience to look for and discern the blessings behind each challenge.
And I guess that prayer even applies to the challenge of missing out on the last iPad deal you waited in line for hours to get at the big box electronics store!
Happy Thankshopgiving! - Mike Brown
Download the free ebook, "Taking the NO Out of InNOvation" to help you generate fantastic new ideas! For an organizational creativity boost, contact The Brainzooming Group to help your team be more successful by rapidly expanding strategic options and creating innovative plans to efficiently implement. Email us at info@brainzooming.com or call us at 816-509-5320 to learn how we can deliver these innovation benefits for you.