I'm delivering a workshop at the Social Media Strategies Summit in San Francisco today. It will cover creating a sustainable, social-first content marketing strategy. The three-hour workshop will take participants through typical sticking points brands face in developing effective content marketing strategy plans that start strong, build, and continue to deliver results.
Areas where we'll concentrate and spend extended time as participants work through Brainzooming exercises include:
Settling on the most important strategic objectives
One workshop attendee, Angelo Harms, Digital Marketing Manager at the Curaçao Tourist Board, has seen me present workshops multiple times at SMSSummits. Angelo has also brought us to Curaçao for content marketing strategy workshops the past two years. Because he's seen SOOOO much of our content, I wanted to come up with something new Angelo hasn't seen yet.
9 Ways a Brand Can Sustain a Social-First Content Marketing Strategy
Here it is, with a sneak peek for all of you.
It's a tool to identify starter topic ideas along the customer journey (X-axis) from three different perspectives (Y-axis):
What customers are thinking about and facing
Industry and product category considerations
Brand content that fits social-first needs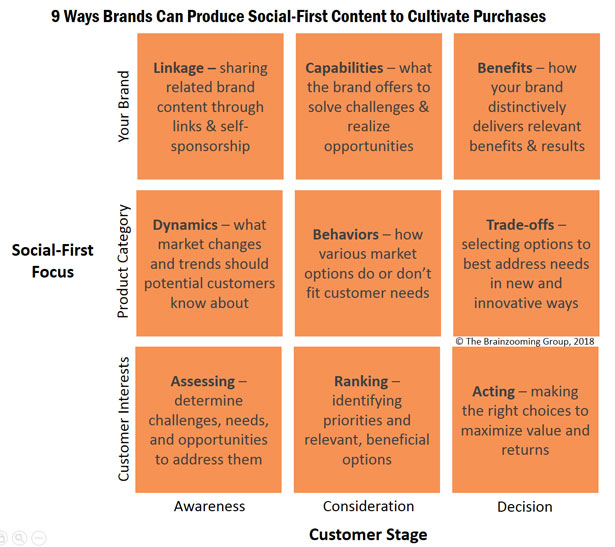 Beyond a content calendar, it's another strategy way to ensure sure you are developing a strong mix of content that is relevant to prospects and customers, no matter where they are along the journey to your brand.
If you would like to go deeper into the topic, download our FREE eBook on Social-First content. It covers many of the exercises and tools we'll share in the workshop content marketing strategy workshop.
If you'd like help thinking about how a content strategy helps grow and develop your brand, contact us. Let's grab time to chat about the possibilities for growing your revenue and customer base through social-first content! – Mike Brown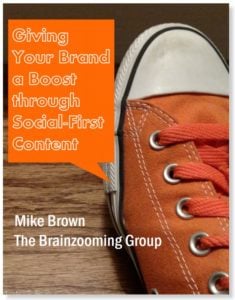 Download the Brainzooming eBook on social-first content strategy. In Giving Your Brand a Boost through Social-First Content, we share actionable, audience-oriented frameworks and exercises to:
Understand more comprehensively what interests your audience
Find engaging topics your brand can credibly address via social-first content
Zero in on the right spots along the social sales continuum to weave your brand messages and offers into your content
Start using Giving Your Brand a Boost through Social-First Content to boost your content marketing strategy success today!