Today was webinar day, as I covered the keys to creating social-first content to stop boring your audience in conjunction with PowerPost. Among the ideas we shared were:
Getting past the management belief that your audience wants to hear about your brand
Telling stories as if your online presence were the company campfire
Developing stories with a three-part, social-first formula
Speaking to specific individuals through your brand's stories
Ensuring every piece of your online content delivers at least one of five vital benefits for your audience members
Involving customers in the stories your brand tells
Finding the cool in your brand and bringing those aspects of your brand personality into social-first content
Listeners walked away with a wealth of actionable ideas to shape and improve how you develop and share stories that stop boring your audience. Download our Social-First Content ebook to get your hands on these same types of tools! - Mike Brown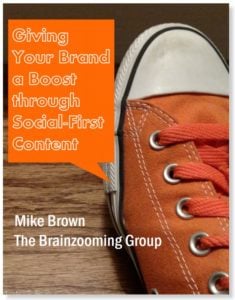 Download the Brainzooming eBook on social-first content strategy. In Giving Your Brand a Boost through Social-First Content, we share actionable, audience-oriented frameworks and exercises to:
Understand more comprehensively what interests your audience
Find engaging topics your brand can credibly address via social-first content
Zero in on the right spots along the social sales continuum to weave your brand messages and offers into your content
Start using Giving Your Brand a Boost through Social-First Content to boost your content marketing strategy success today!