I talk to many people who mention struggling to generate amazing ideas. I understand that completely. I would have told you that about myself years ago. Heck, I still find those ideas elusive some days.
The great thing I have going for me NOW is I have a secret creative tool to use. This secret creative tool works whether I'm feeling amazing creative energy or not.
What's the secret creative tool? Extreme creativity questions!
Different questions work different ways. A specific question might:
Provide incredible amounts of white space suited to exploring new ideas
Invite people to embrace dramatic aspirations
Shut off seemingly vital elements of a situation to force radically new directions
No matter which way they work, extreme creativity questions make over-sized creative thinking a natural outcome.
Your Secret Stash of 49 Extreme Creativity Questions!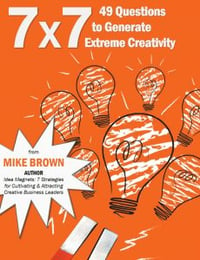 If you would like your own secret supply of creative thinking questions, we invite you to download our eBook, 7x7 - 49 Questions to Generate Extreme Creativity. This new eBook offers seven extreme creativity questions for EACH of the seven Idea Magnets strategies:
Generate Inspiration
Embody Servant Leadership
Attract Opposites
Make Unexpected Connections
Encourage People and Ideas
Implement for Impact
Recharge Creative Energy
All in one place, the forty-nine questions in 7x7 provide an actionable creative formula. 7x7 will inspire you and your team to amazing creative thinking success.

If you think 7x7 is the powerful secret tool you've been waiting for to boost your creativity, download your copy today! – Mike Brown