"Do you see any returns from all the blogging and social media stuff you do?"
People routinely ask some variation on that question about our social-first content marketing strategy.
I understand why they ask.
If they follow the Brainzooming blog or our presences on Twitter and Facebook (where we are most active - so go follow us there, please!), it's only natural to speculate about how much time it takes, what it is doing to help grow our business, and whether they stand to see comparable benefits from investing time, energy, or dollars in creating content.
23 Content Marketing Strategy Benefits for an Emerging Brand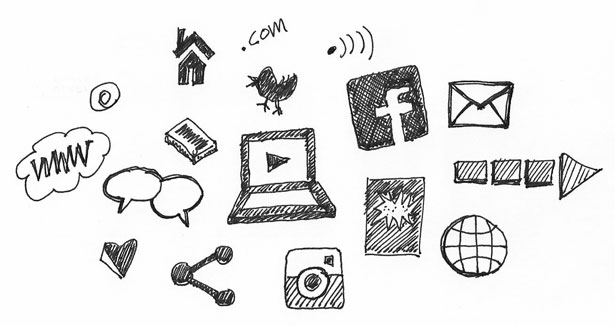 The simple answer to the question is we certainly see returns from the blogging and social media sharing we have been doing since before the Brainzooming brand existed as an independent organization.
Thinking about the list of impacts for our emerging brand, our content marketing strategy:
Built and and continues to cultivate a global audience for the brand
Paved the way for transitioning a capability inside a Fortune 500 organization into the separate and standalone Brainzooming brand
Provides credibility with human and search engine audiences that the website is a worthwhile place to go for information on strategy, innovation, and branding
Attracts audiences on social media networks
Helps new people begin to understand what we do
Allows us to demonstrate what we know and what we can do without having to beat down doors or pester people with phone calls they don't want
Offers a reason for people to come to the website or subscribe to our content (which leads to them seeing information about what we do and can offer them)
Keeps our name in front of people interested in our brand that develop into clients later
Has created (and continues to create) fans for the brand
Sustains relationships with current and future clients until they are ready to buy our services
Attracts potential partners
Provides the ability to create new formats (such as custom tools for clients) in a fraction of the time that creating brand new content would require
Creates interest in our services among social media audiences, leading to new clients
Leads to speaking opportunities, which create income and new blog readers and then lead to additional new clients
Sends a message that the brand has substance
Lets us rapidly answer questions for potential clients with little incremental time or dollar investment
Is a source for new presentations, workshops, and keynotes
Turns into diagnostics that become core pieces of our service offering
Interests like-minded people in wanting to work for us
Opens the door for us to compete for and win work against some of the world's top strategy and branding consultancies
Allows us to deliver on client projects more quickly and efficiently than we otherwise could
Feeds into creating downloadable eBooks that attract major new clients
That's a quick list of what all the blogging and social media sharing (in short, our content marketing strategy) has done for Brainzooming as an emerging brand. We're a brand that started from scratch and bootstrapped into a viable business and an emerging brand, largely based on a content marketing strategy.
So yes, we do see results from all our content. Moreover, we are committed to the strategy and benefits we can deliver with our social-first content. Thanks for being a part of it! – Mike Brown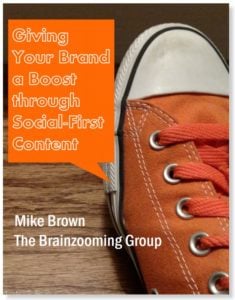 Download the Brainzooming eBook on social-first content strategy. In Giving Your Brand a Boost through Social-First Content, we share actionable, audience-oriented frameworks and exercises to:
Understand more comprehensively what interests your audience
Find engaging topics your brand can credibly address via social-first content
Zero in on the right spots along the social sales continuum to weave your brand messages and offers into your content
Start using Giving Your Brand a Boost through Social-First Content to boost your content marketing strategy success today!