Based on executives visiting the Brainzooming website, there is considerable interest right now in "strategic planning icebreaker activities." I guess that isn't surprising. This is the time of year when most organizations that are going to do strategic planning are thinking about it or have already started.
2 New Strategic Planning Icebreaker Activities
Here are two brand new ideas for strategic planning icebreaker activities. They both materialized last week. One is from a misunderstood comment at a strategic planning workshop. The other is a spin on a strategic planning technique someone told me about.
#1. Why can't we have nice things?
Walking up to a small group at a Brainzooming strategic planning workshop, I mistakenly thought one participant said, "This is why we can't have nice things." That was enough of an inspiration to jot the idea down on this sticky note.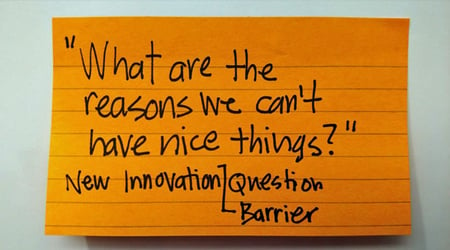 It occurred to me that this could be one of those fun strategic planning icebreaker activities to start a conversation about challenges and roadblocks an organization is facing. As it's shown here, people can introduce themselves, then state a reason the organization can't have nice innovations. Nothing about the question suggests whether the responses must be serious or silly. You may want to arrange for an early participant to share a silly answer to keep the tone light.
#2. Fill in the Blank
The second icebreaker activity idea came from someone telling me about a strategic planning workshop exercise where they used fill-in-the-blank questions. That made me remember the Match Game television program. On the game show, contestants completed a sentence by filling in a blank. The players scored points based on whether celebrities matched their answers to the typically suggestive questions.
Why not use a similar approach for strategic planning icebreaker activities?
Based on the same theme of getting a conversation started about innovation challenges, possible questions are:
I'm thinking we'd print the questions on sheets of orange paper, allowing people to answer them in writing and then hold them up as they introduce themselves.
Remember: These Are from the Brainzooming R&D Lab
We haven't tried either of these in a real workshop yet, but we will soon. If you beat us to it, contact us about how they go! – Mike Brown