What types of strategic planning activities are in a strategic thinking workshop?
Readers have been asking this question frequently of late. That this is taking place during a period when many companies are IMPLEMENTING strategies suggests you understand the importance of strategy even beyond initial planning.
As we collaborate with a client to design strategic planning activities for a strategic thinking workshop, we explore various possibilities. The goal is making sure the strategic planning activities we select best match the organization, the objective, and the participants. By adapting the process to the situation, we're able to help clients develop strong strategies with tremendous time efficiency.
6 Potential Strategic Planning Activities for a Workshop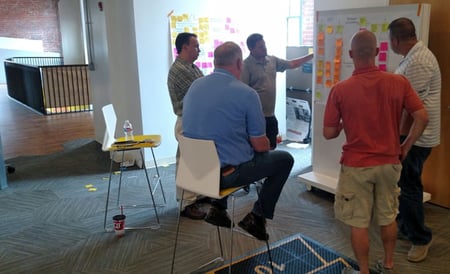 If you are figuring out strategic planning activities in a strategic thinking workshop, we suggest looking toward six "I" categories as your starting point for the design. These six types of activities include:
Interacting – Meeting, networking and connecting with one another to build or enhance the sense of team among participants.
Informing – Providing background data and context so everyone has the same backdrop for strategic thinking. These activities often happen before a group convenes.
Investigating – Examining a particular situation to ensure the appropriate facts and perspectives are available for strategic thinking.
Insighting - Identifying breakthrough thinking to open the door to deeply understanding opportunities and threats that strategy needs to address. (And yes, we know Insighting is a made-up word!)
Iterating – Using specific creative and strategic thinking exercises in a sequence to help the group generate many possibilities and ideas.
Integrating – Taking the output from throughout the strategic thinking workshop and putting it into strategic planning outputs. As with Information activities, these often happen outside a group setting.
Selecting the Right Menu of Activities
Selecting the menu of activities for a strategic thinking workshop isn't haphazard. As we mentioned, the combination of the organization, objectives, and participants leads to the right menu of strategic planning activities. We explore each of these areas upfront to determine what to include.
The next article will take you deeper into each of the six categories with helpful articles to shape a productive strategic gathering.
Have questions about how we apply these activities? Contact us at The Brainzooming Group, and let's talk about how to create the right menu of activities for your team. – Mike Brown