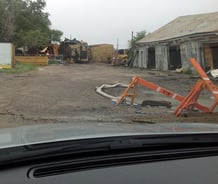 When it comes to figuring out what to blog about, blog post inspiration can come from a variety of places.
This weekend, I visited my home town, which was the site of a recent train wreck. Driving by the accident location with my mom, I stopped the car and snapped several photos of the remnants of train wreck location. As I told Mom, now I have the photos, and it's just a matter of writing the blog post about a train wreck of a project.
9 Places for Blog Post Inspiration
See, blog post inspiration can easily emerge from a photo. Here are eight other potential places where blog post inspiration can originate:
A Headline - If you have a pithy blog headline rolling around in your head, it can be screaming for a full blog post.
Tweets - Try out ideas for a potential blog via tweets with a specific hashtag to make it easy to collect and put them together.
Questions - Answer relevant questions you receive about what your organization does or a subject you regularly blog about.
A Business Introduction - Suppose there's someone you meet who is intriguing at a conference. Ask them if they have a blog post to share.
A Presentation - Write up your notes or live tweets from a presentation or other educational event.
A Book You've Read - Write a review, a reaction, or a counterpoint to a popular book's point of view.
A List - If you have an interesting list of steps, bests, worsts, or ideas, you're well on your way to a new blog post.
An Opening or Closing - Maybe you have a great introduction or close for a potential blog post. That killer line or paragraph may almost write itself into a blog post.
Those are nine places I consider for inspiration on what to blog about. If you blog, what places do your blog posts start from typically? - Mike Brown

If you're struggling with determining ROI and evaluating its impacts, download "6 Social Media Metrics You Must Track" today! This article provides a concise, strategic view of the numbers and stories that matter in shaping, implementing, and evaluating your strategy. You'll learn lessons about when to address measurement strategy, identifying overlooked ROI opportunities, and creating a 6-metric dashboard. Download Your Free Copy of "6 Social Media Metrics You Must Track!