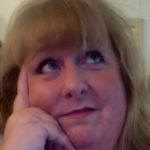 A friend recently told me a story about her friend whose grandmother, after engaging with Facebook, said the most wonderful thing. I'm paraphrasing, but it was something like this, "Ya know when I read Facebook, there is all this wonderful stuff, and I don't how it got there. It's like God is speaking to me."
I love this idea so very, very much. Maybe it's God. Maybe it's the Universal Connection of Everything. Maybe it's an Algorithm, grandma. Whatever it is, there are indeed inspirations behind the creative clicks that just pop up on my Facebook page that influence my work everyday.
So in honor of Labor Day, this week's Creative Clicks from Facebook inspire my working mind. No funny animal videos, all work related. Here's to a day off and letting God take the wheel of Facebook.
As always, finding the creative clicks is as easy as clicking on the title to link to the full article – Marianne Carr
It's important to look for ways to incorporate your brand into daily opportunities that will delight your target audience, particularly if it's in an unexpected but logical place.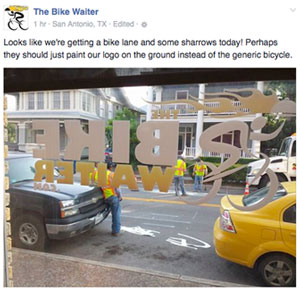 This is one of those gentle reminders that productivity isn't possible when you are overstressed. It's helpful to have reminders.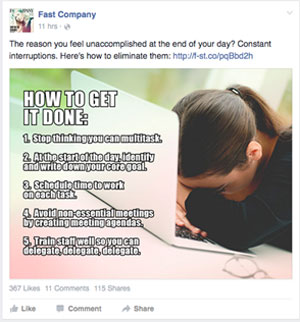 I don't think I need to say much about this Innovation! Ha! It made me LOL, which is a great way to inspire creative thinking. You bet I shared this!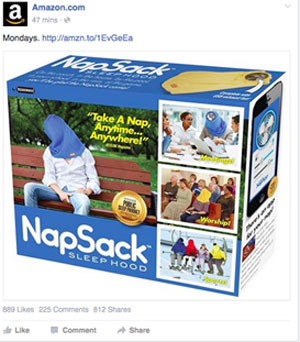 It is, Indeed, the Little Things.
Shifting perspective can give you some really great ideas. No link on this one because it's from a friend who is an amateur, shy, and wonderful photographer. She sees beauty almost everywhere. That's the way it should be.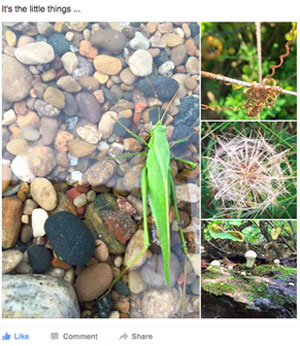 This is a personal one. When I was in my early 20's I read Oliver Sacks book The Man Who Mistook his Wife for a Hat and became hooked on how the brain and creativity work. Oliver Sacks converts complicated mysteries of the mind into stories that allow us civilians to travel the journey for explanations. Thank you, Oliver.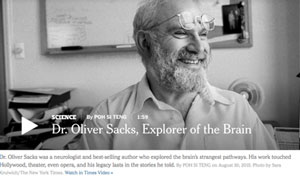 …there is a real logic to the design. Solar panels are almost black and in Africa, the market for the Desolenator, they get really hot in the sun. So hot, that they deteriorate and produce less electricity. In the Desolenator, the water being purified runs over the solar panel and keeps it cool. In the process, the water is actually heated quite a bit, so that it takes far less energy to actually bring it to a boil. So there is a real logic to combining a solar panel and battery with a still: they both work better. The unit can also provide electricity to run LED bulbs in at night, so a single unit is delivering both water and light.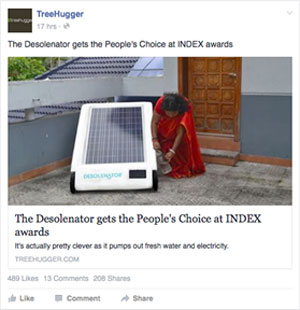 INDEX: Design to Improve Life® is a Danish NPO with global reach. We Inspire, Educate and Engage in designing sustainable solutions to global challenges. INDEX: Award was conceived in 2002 as a world event for design and was awarded for the first time in 2005. The word "INDEX" was an abbreviation of INternationalDEsign eXhibition and when the organization was founded, the goal was to brand Denmark by the use of a large-scale, traditional design award – hoping to attract attention, tourists and investments to Denmark.
Denmark has an award program that builds on its Global reputation for Design with the intention of building its Brand awareness while doing good. Great combination. And the entries are extremely inspiring.
Ahem, May I disagree for a moment?
No Click here. Just a comment. Sometimes, if you are very lucky, your work IS like climbing a mountain. One that makes you achieve more than you thought possible. You have Pride, and Skill, and sometimes falls, and great crevasses to cross. But if in the end it is ALL worth it, you WILL remember. There are many paths up the Mountain. Make sure your job is one that makes you feel like planting your flag.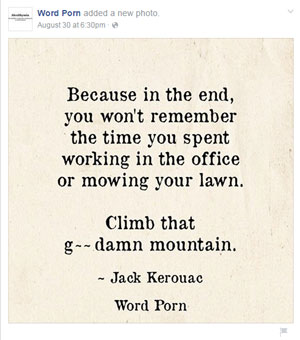 Pajama Day is when you spend all day in your pajamas! The only rule for Pajama Day is 'there are no rules!" But there is a guideline, try not to do any work. Working is not in the spirit of the day, but hey, it's your day. Do what you want. Here's to hoping Labor Day is a Pajama Day for everyone!
Download our FREE "Taking the No Out of InNOvation eBook to help you generate extreme creativity and ideas! For organizational innovation success, contact The Brainzooming Group to help your team be more successful by rapidly expanding strategic options and creating innovative growth strategies. Email us at info@brainzooming.com or call us at 816-509-5320
to learn how we can deliver these benefits for you.