We all hit breaking points where frustration makes you question your direction, what's important, and why you seem to be stuck in a current situation. If this weekend finds you at a professional or emotional crossroads, maybe it's time to step back, look at some of your self-imposed constraints, and say, "To hell with it!"
Where to start?
If you're dealing with anything on the list below, one or two of them would be a good place to start.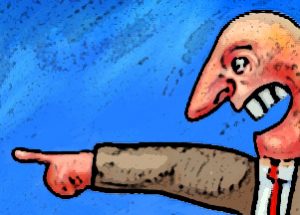 Consider saying, "To hell with . . . "
Over-preparing for presentations, projects, meetings - whatever it might be.
Trying to make equal time for ALL the objectives you think you need to reach.
Attempting to perform to your overly high standards.
Volunteering again for something you've already volunteered for multiple times.
Buying something you'd usually buy without thinking twice.
Taking on a project where you're not going to get paid what you're worth.
Complaining and worrying about things you can't change.
Networking with people you can't meaningfully help and who can't really help you either.
Ignoring the need to focus on a big, tough goal while spending time on a bunch of easy, distracting goals.
For me, this weekend has less frustration than usual because I didn't volunteer again for a project which once provided learning and development but wasn't going to anymore. In my case, saying, "To hell with it," was difficult when I did it, but it feels great today! – Mike Brown
If you'd like to add an interactive, educationally-stimulating presentation on strategy, innovation, branding, social media or a variety of other topics to your event, Mike Brown is the answer. Email us at brainzooming@gmail.com or call 816-509-5320 to learn how Mike can get your audience members Brainzooming!