We don't have kids, something we came to terms with relatively early in our marriage and have accepted as part of life. While it means missing out on a range of incredible experiences, we've been able to do things for others (particularly our niece and nephews) that wouldn't have been possible otherwise. The net of it is accepting what life hands you and making the best of it.
Last year, our niece Valerie called and asked to speak with me. This was unusual, but as I've written before, Valerie has lived an unusual life. That includes getting married initially in a group wedding ceremony on Valentine's Day 2008 at Loveland Pass. This was an event the family first learned about when my mother-in-law saw it reported on the Weather Channel!
When Valerie began talking about a second wedding ceremony where friends and family could be present, I was hesitant since we'd have to play a big role in putting it on.
As the phone conversation began, I told her our ability to help was limited since her cousin was getting married about the same time and we might have to get Valerie's grandma to it. While stating my case, Valerie interrupted to ask, "Would you walk me down the aisle?"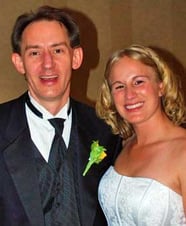 Walking a bride down the aisle was something I'd long ago come to accept as an "I'll never get to do it" moment. Suddenly my tone changed and being able to do something I never thought I would do completely changed my perspective. I was all for wedding ceremony #2 and making it happen.
The life-changing lesson here is the important reminder to remain perpetually hopeful. Things you think can never happen can happen. If there are possibilities you've shut out of your life, maybe it's time to open them back up.
And in true Valerie fashion, she followed her life-changing comment with another incredibly touching one. As we were getting ready to walk into the ceremony, she told me, "Who else would I have asked to give me away. With everything you guys have done for me, you're like my father."
That's Valerie!
Wrap-up: Hope you enjoyed this series on life-changing words! Have a great holiday and rest of 2009! Thanks for reading Brainzooming! - Mike Brown