If you regularly watch—or as I am, are addicted to—the television show Mad Men you will have heard passing references to David Ogilvy.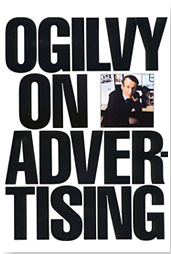 I tell students in advertising or marketing (or anyone else in the fields that will listen) that if you are only going to read one book on the subject, it has to be Ogilvy on Advertising by David Ogilvy.
Now it was written nearly 30 years ago. Some of the styles are quaint, products unusual and brands long vanished. You won't find one reference to the Internet. But it is hands down the single best book on advertising ever written.
It is well organized, hansomely illustrated, and Ogilvy is a great copywriter and a natural story teller. Additionally, the book has a wonderful Reading List that will introduce you to other gems that you may not be familiar with.
But a huge part of what makes the book valuable is that so much of what it contains is research based. Ogilvy recognizes that advertising is both science and art, but that without the science you will only be successful if your art is both good and lucky. He attributes this point of view to his background working for the Gallup organization.
The book is a bit of a Rorschach test for people who work in marketing communications. Those who find it hard to live with the fact that advertising is about selling stuff, lots of stuff, are stifled by Ogilvy's lists and guidelines and how-to's. Those who are able to recognize that they are using their skills at innovative thinking, creativity and strategy to reach sales goals find those same lists, guidelines and how-to's freeing.
After all, if you don't have to worry about what typeface to use in the brochure (according to Ogilvy serif fonts will greatly increase readership in print), you can spend that time and effort—and creative energy—on how to engage the reader and convince her to buy what you are selling. - Barrett Sydnor
The Brainzooming Group helps make smart organizations more successful by rapidly expanding their strategic options and creating innovative plans they can efficiently implement. Email us at brainzooming@gmail.com or call 816-509-5320 to learn how we can deliver these benefits for you.