Admission - I quickly grow impatient (yet only slightly unruly) in crowded stores.
Fortunately, my Flip camera has helped keep me out of trouble recently (kind of like Cheerios for geeky adults), creating amusement in finding great marketing strategy examples to capture.
To get you ready for the time spent in stores this week for Thanksgiving preparation and Black Friday, we'll share a few "out and about marketing" examples this week. Be on the look-out for ones you see and submit them as future guest Brainzooming posts!
Merchandising Can Be Experience Marketing
Why have boring grocery store displays when they can be colorful, fun, and create memorable visual experiences? These two stacks of soft drink boxes for Coca-Cola products are from two local grocery stores - Price Chopper (left) and Hy-Vee (right).


While the pumpkin at Price Chopper was just plain fun, the Hy-Vee display was a top-five highlight for the Kansas City Chiefs this season!
Taking the Experience Home
This product makes me both proud and ashamed to be in marketing.
Talk about turning a generic category (tater tots) into an experience for multiple audiences. These Ore-Ida ABC Tater Tots are innovation rock stars on multiple levels!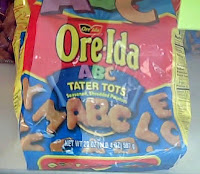 For parents, they combine two high interest experiences - learning and getting kids to eat. For kids who enjoy school, they're great fun; for those that hate school, it allows them to work out a little aggression on these dreaded Sesame Street sponsors. Plus, I love how easily you can imagine the idea coming straight out of a
Trait Transformation exercise
!
So why do they also make me ashamed to be a marketer?
Because they're tater tots! How much cool brand experience does it take to get ANYBODY, let alone kids, to eat tater tots? I LOVE tater tots, but they're not "
trainer-approved
." So how about applying cool brand experience strategy to vegetables and fruits that are less processed, less fun, and healthier! -
Mike Brown