Yesterday marked a momentous day professionally, that seemed big on the day it happened, but not as life-changing as it has become.
On October 22, 1997, I wore orange socks for the first time.
The occasion was presenting our first strategic market plan at Yellow Transportation (whose name was Yellow but whose color was orange) to the senior leadership team. The presentation took place at Arrowhead Stadium, where the Kansas City Chiefs play. Before the day was done, we debuted our new vision video on the Jumbotron followed by live actors from the video barging in to interrupt the proceedings.
In the vision video, the Yellow sales person wore orange socks. Before the big meeting with the senior executives, our boss, Greg Reid, asked Brenda Price (our department "mom") to dye white socks orange so the entire Marketing department could sport orange socks.
After the meeting, I went on the hunt for more orange socks. Before we got them in our new company store, I found them at the Gap and started accumulating them.
Over time, another guy in the department and I got into an informal competition for who could have more orange stuff. Wearing orange socks was an easy way to make sure I always was wearing SOME orange daily.
Fast forward to last summer 2001: Chuck Salter of Fast Company was preparing an article on the turnaround at Yellow. Greg brought me along to a group interview with the senior executives to introduce me to Chuck as his internal fact checker. The orange socks came up in conversation, but they were tangential to the interviews with the top leaders. Chuck and I talked afterward by phone, and he asked about the socks and how long I had worn them.
When the Fast Company article appeared in January 2002, someone came to my office to ask if I'd seen it. I said I hadn't. He let me know I was all over the article. I was horrified! I was the fact checker, and that was it.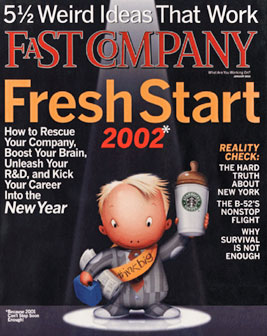 In the article, Chuck Salter mentioned, "Without a doubt, vice president Mike Brown is the Cal Ripken Jr. of Yellow fashion. Brown has worn orange socks to work nearly every day — "99% of the time," he says — since October 22, 1997." With that statement - my entrée to Fast Company - there was no turning back on orange socks. The last day I didn't wear orange socks at our Kansas City headquarters (after one of our cats died and I wasn't in the mood), a co-worker went to the company store, bought me a new pair of orange socks, and insisted I change into them in the building's main lobby.
Later, when Yellow bought companies whose colors differed, I'd wear blue, green, or orange / blue / green socks, as appropriate. At one point, I had five different types of orange / blue / green socks. When a senior sales VP with the company saw my multi-colored pair of argyles, he exclaimed, "I'm color blind, and I can tell those socks are ugly."
Fast forward a few more years later. I got the go ahead to start speaking to external groups about what we were doing to involve large groups of employees and speeding up strategic planning. The restriction was, I couldn't talk about Yellow, yet, I needed to wear the orange socks, because they are what got me into Fast Company. Googling "orange," I discovered it is the color of creativity and innovation. Thus, even before The Brainzooming Group was emerged, it was obvious orange would be the brand's color.
So, yes, I still wear orange socks daily.
At last count, my inventory of unworn orange socks was somewhere in the thirties. I'm not sure how many pairs of socks are in the currently worn mix; the number is probably comparable.
Reflecting on the orange socks story, I still receive the question all the time, "Are you wearing orange socks?"
My response is always, "Yes, why in the world would I NOT wear orange socks?" - Mike Brown
Create the Vision to Align and Engage Your Team!
Big strategy statements shaping your organization needn't be complicated. They should use simple, understandable, and straightforward language to invite and excite your team to be part of the vision.