Lots of people tell me that when they see something orange, they think of me.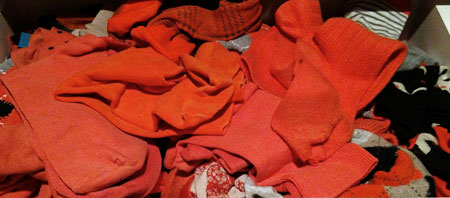 That's incredible, because, to paraphrase a story in Idea Magnets, some people are called to orange, and others have it thrust upon them.
Orange was thrust upon me.
And it took some time for me to realize how important the color would become. As a natural introvert (at least to the extent that it's tough for me to meet new people and strike up conversations), orange has become a way to open the doors to interaction. People notice the orange socks I wear and will say something. They'll ask whether I went to Tennessee, Clemson, or Syracuse, wonder if I'm color blind, or just go, "Wow, those orange socks are bright, dude!"
No matter what they say, we're into a conversation!
10 Things Folks Learn When Asking about Orange Socks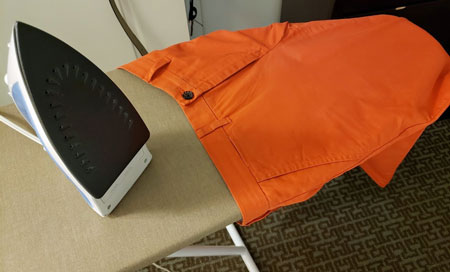 Here are ten things I typically wind up sharing with people when they ask about my adopted color.
Greg Reid directed our entire marketing team (including me) to wear orange socks on October 22, 1997. After January 2002, there was no way I could ever NOT wear orange socks again. It's because of that (and being associated with creativity and innovation) that orange is the Brainzooming brand color.
Two articles of orange clothing never entirely match.
Orange clothes I now own? Socks (I've lost count of how many), a suit, 4 Ralph Lauren linen sports coats, dress shirts of all types, pants, plenty of shoes, a belt, outer coats, underwear and t-shirts, sweatshirts, sweater, baseball caps, workout shirts, sweat pants, gloves, a scarf.
My fashion advice? When you find something orange, buy multiples of it. (See the 4 Lauren orange sports coats.)
Where do I find all this orange stuff? I pay attention to local sports teams to find unexpected pockets of lots of orange. I can also walk by a store and sense whether there are orange clothes inside. Seriously. But that doesn't stop me from packing too many orange clothes - just in case something bad happens.
You can always wait for something orange to go on deep discount. It's going to happen. WITHOUT A DOUBT. (Someday, I need to share the story here of WHY I have 4 orange Ralph Lauren sports coats!)
Orange things in our house? The kitchen, a bathroom, towels, dishes, a fuzzy blanket, table lights, folding chairs, bed sheets and pillow cases.
We've never owned an orange vehicle, although I used to always rent orange HHR cars (which we called planning mobiles).
If I weren't wearing so much of this color? I'd be wearing more blue, like I used to do.
Favorite quote EVER about me wearing orange? "Halloween is the one day of the year when Mike looks fashionable."
Orange you glad you read this far! – Mike Brown