People ask a lot of questions about my obvious association with orange. That's natural given that orange is the brand color for both Brainzooming and Idea Magnets, and I wear orange socks daily along with some combination of shirts, pants, and shoes. We also have an orange kitchen and bathroom in our house, and practically every business accessory in my life is some shade of the color.
I receive so many questions about our brand color, in fact, that orange (and why it's my color) warranted an entire chapter in Idea Magnets.
Despite all this apparently over-the-top orange, my relationship to orange changed markedly ten years ago. I left my long-time corporate home where our name had been Yellow, even though our brand color was orange. After the company finally embraced orange, wearing as much orange as possible was a sign of fitting in. Wearing orange demonstrated a level of branding that everyone in the company could aspire to, if only they could overcome their inhibitions about dressing so brightly.
Many people embraced orange boldly. I was happy to be a very visible cheerleader for celebrating our color, along with the energy and verve it conveyed.
Outside the corporation, orange, especially in the form of my orange socks, became a dependable conversation starter. This helped me, as an introvert, meet many more incredible people - inside and outside the company - than I ever would have if I'd stayed with my previous sartorial choice of matching the color of my socks and slacks.
As the Brainzooming brand developed prior to leaving the corporate world, the only choice was to make orange our predominant brand color. We even selected nearly the same bright orange (PMS 151) that my corporation used. Only when Brainzooming rebranded in 2019, did we move toward a richer, slightly darker orange, reflecting our brand's maturity and positioning.
Intriguingly, since launching Brainzooming as a separate company, I've cut back on orange. Seriously! The reason was that within the corporation, wearing orange was an aspiration for everyone. It was part of being a team member. With Brainzooming, too much orange felt like it might be creating separation relative to others. Since separation is not part of the Brainzooming brand, I use the color more subtly now. Really.
Finding a New Way to Live the Brand Color
All that to say that during my adult life, I've never owned anything but white or silver cars. Granted, during the mid-2000s, Keith Prather and I would rent orange HHRs when they were widely available; I dubbed them our Planning Mobiles. I've never been able to wrap my mind around owning an orange car, even though my closet is filled with four $600 list price Ralph Lauren orange linen sports coats. (Important note: I bought the first one for $300, because you always buy orange on sale. The other three? They cost $8.86 each, because you can frequently buy orange things at a nearly 100% discount.)
Anyway, last week, maybe for the 10th anniversary of Brainzooming or maybe for my birthday (which is today), we bought a Nissan Rogue that is Monarch Orange.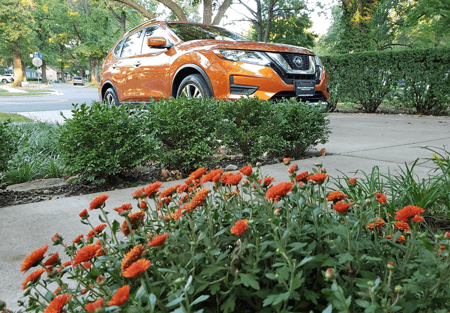 Although I have never been a car guy, I am completely smitten with this SUV. This car feels like it fits my business personality. It's already become a new social media character for the business; photos of the Rogue are garnering more Facebook love than anything I've shared recently. I can already imagine a whole host of orange Rogue images to illustrate Brainzooming and Idea Magnets content.
We've even given the car a name: the Idea Mobile. Look for the #IdeaMobile hashtag and perhaps a personalized license plate (IDEAMBL).
Is there another part of my life where I've yet to on fully embrace our orange brand color?
If there is, I can't think of it right now. So, if you see an orange Rogue coming your way, honk, because it may be me and the #IdeaMobile. – Mike Brown