Brainzooming prioritizes three different and diverse strategic thinking perspectives in any strategy work we lead.
Why? Because diverse thinking leads to better and stronger strategies.
Three Important Perspectives and Three Strategic Voices
The three strategic thinking perspectives include people with:
Direct experience
Functional expertise
Innovative thinkers who bring creative energy to strategic conversations
Across these three groups, we also look toward three voices to invite to participate. This is especially important when developing an organization's vision and related strategic opportunities. The three voices are:
Emerging Voices
Challenging Voices
Leading voices
These three voices all differ in their backgrounds and what they bring to strategic thinking and strategy conversations.
Emerging voices - Organizations and individuals with new visibility in an organization or among its audiences. They have been outside the mainstream conversations and represent a valuable perspective the majority routinely overlooks.
Challenging voices - Individuals who will constructively question the status quo. They are oriented toward finding answers to lingering issues and are sensitized toward not simply ratifying the popular view and calling it good.
Leading voices - Individuals recognized for their long-term engagement, their deep and broad networks, and a strong understanding of relevant and significant opportunities and issues.
How Each Strategic Thinking Perspective and Voice Contributes
This graphic highlights where each perspective and voice contributes to overall strategic thinking.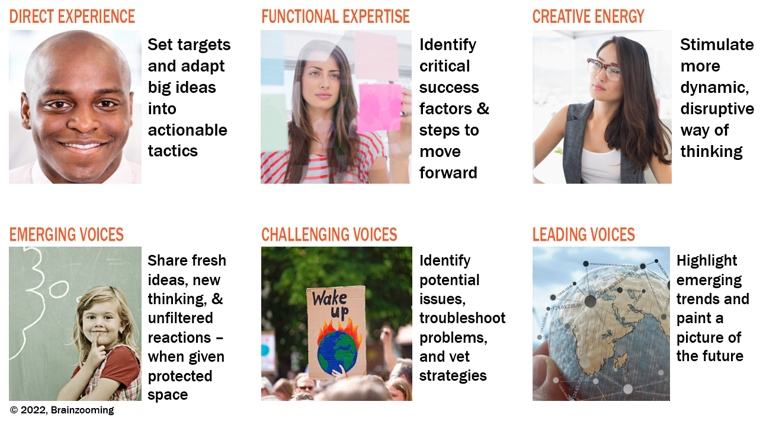 Next time you're convening a group to meaningfully address the future of your organization, take a good look. Do you have individuals representing all three perspectives and voices?
If you need help thinking through which individuals bring the perspectives and voices you need, you can access this Brainzooming resource. It will walk you through the steps to bring all the right parties into strategy planning right away. – Mike Brown
If you're facing a challenging organizational situation and are struggling to maintain forward progress because of it, The Brainzooming Group can provide a strategic sounding-board for you. We will apply our strategic thinking and implementation tools on a one-on-one basis to help you create greater organizational success. Email us at info@brainzooming.com or call 816-509-5320 to learn how we can help you figure out how to work around your organizational challenges.