The 25th, Compete Through Service Symposium produced by the Arizona State University Center for Services Leadership was fantastic! There were so many great speakers and intriguing discussions. I was honored to facilitate two workshops on Outside-in Service Innovation and using strategic thinking exercises to expand an organization's thinking and innovation results.
Speaking of strategic thinking exercises, looking back over my Compete Through Service notes and tweets, here are important points that all seem as if they are begging to become strategic thinking exercises. We will be sending all of these to the Brainzooming R&D lab and see what develops from them!
Mary Murcott, President, The Customer Experience Institute, Dialog Direct
Culture, a provocative point of view, and simplicity drive service innovation.
To disrupt through simplicity, try to enable people to do more, re-imagine the service experience, remove friction in processes, and figure out how to save people time. (This idea has already become an organizing slide in the Outside-In Service Innovation workshop.)
Mike Gaithright, Director, Americas Customer Services, Amazon.com
The Jeff Bezos formula is obsess over customers, think long term, and innovate.
Amazon looks at opportunities as either one-way or two-way doors. A one-way door is a situation where once you make the decision and commit, you can't return to where you were. With a two-way door opportunity, you can go right back if something is wrong. Amazon goes big, bold, and fast in two-way door situations.
With customer service, treat your customer as you would a friend. Ask yourself, "What would I do to help my friend when something goes wrong?" Then go out and do that.
Brad Haeberle, Vice President, Siemens
People will pay a lot of money for services that take pain off their lap. Or ask customers how they use your product and commercialize that - you'll make a lot of money.
Accounting systems go against service innovation. You can depreciate product development investments, but typically can't with a service.
Erik Peterson, Partner, A.T. Kearney
"Power is 'easier to get, harder to use and easier to lose.'" - Erik Peterson quoting one of his associates
Derrick Hall, President and CEO, Arizona Diamondbacks
During a period of intense change, reach one person at a time. Don't allow a single call or email to go unanswered when going through change. Even better, meet with people individually and personally to communicate and bring them into the change.
Have an arrival party for new employees. Don't invest in going-away parties, making a big splash for someone who doesn't want to work for you anymore.
Bridget Duffy, MD, Chief Medical Officer, Vocera Communications
The first question to hospital patients (or any customer in a daunting, stressful situation) should be, "What are you most concerned about and how we can address that?"
Develop an "Always Event" list spelling out the customer experience that always has to be in place. One question to help identify easy things to add to the Always Event list is, "What one moment in the experience most touched your heart?"
When you're trying to tackle major customer experience issues, don't try to solve everything at once or start with the hardest thing to fix.
Mavericks have to be willing to be burned at the stake.
Danny White, former Dallas Cowboys Quarterback
Failure is a resource. It helps you find the edge of your limitations. - Danny White quoting from the book You2
Ray Barton, Chairman of the Board, Great Clips
How do you ensure the brand experience's consistency when it has to be carried out by other, non-employee parties? Simplicity and consistency in message and behaviors is the key. With simple messages and behaviors comes the ability for other parties to know what to do and when.
Boredom is the enemy of simplicity and focus. When an organization has figured out what works, it can't afford to get bored and complicate what works.
Randy Wootton, VP Premier Products, salesforce.com
When you create an app or another capability to monitor how a user is using your product or service, it gives you the incredible opportunity to provide improvement recommendations to users based on broad experiences.
Stephen W. Brown, Professor Emeritus – Marketing, Arizona State University
Collaboration with customers is an incredibly strong opportunity. A brand can co-design, co-develop, co-produce, co-deliver services with its customers.
"To be successful, you have to put your brand out there and be vulnerable."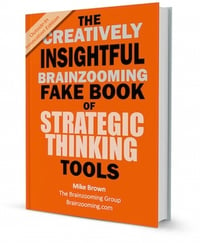 Are you making the best use of customer input and market insights to deliver innovation and growth? Creating successful, innovative new products and services has never been more dependent on tapping perspectives from outside your organization.
This new ebook features sixteen strategic thinking exercises to help you ideate, prioritize, and develop your best innovative growth ideas. Download this free, concise ebook to:
Identify your organization's innovation profile
Learn and rapidly deploy effective strategic thinking exercises to spur innovation
Incorporate crowd sourced perspectives into your innovation strategy in smart ways