A quote from actress, Julianne Moore in Entertainment Weekly (Oct. 31, 2014), is important from a strategic thinking perspective.
"Every actor you talk to, unless they're fooling themselves, will tell you that you're at the mercy of who will hire you next. The only control we have is saying yes or no."
While Julianne Moore applies the quote to actors, the strategic thinking perspective relates to anyone in a role where what's next after whatever you're doing now isn't routinely known.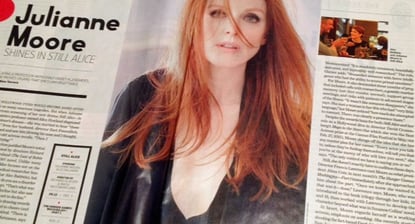 Framed that way, the quote extends to entrepreneurs, major brands making strategic decisions, and even employees inside companies who have some flexibility on navigating their projects and responsibilities.
Beyond extending the strategic thinking perspective to other fields, turning it into a strategic thinking question adds even more power. Ask yourself, "What am I saying 'yes' and 'no' to?"
Are you saying "yes" and "no" deliberately and strategically?
Or are you doing so out of instinct, feelings, boredom, or something else?
It's not that being less deliberate about saying "yes" or "no" to what's next is wrong. It might simply mean it's going to be more challenging for you to learn from and build on past successes and failures to move forward in a specific direction.
No right or wrong answers today. Simply the strategic thinking question you can use as a daily reflection if you so choose: "What am I saying 'yes' and 'no' to?" – Mike Brown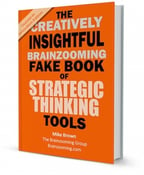 Are you making the best use of customer input and market insights to deliver innovation and growth? Creating successful, innovative new products and services has never been more dependent on tapping perspectives from outside your organization.
This new ebook features sixteen strategic thinking exercises to help you ideate, prioritize, and develop your best innovative growth ideas. Download this free, concise ebook to:
Identify your organization's innovation profile
Learn and rapidly deploy effective strategic thinking exercises to spur innovation
Incorporate crowd sourced perspectives into your innovation strategy in smart ways