Does your innovation strategy include adopting a more outside-in approach that better involves customer and market input?
If so, today is the perfect day to download our latest innovation strategy eBook, "The Outside-In Innovation Edition" of the Brainzooming "Fake Book of Strategic Thinking Tools."
This new outside-in innovation strategy eBook has received a wonderful early response. Today, we want to make sure each reader takes advantage of incorporating these valuable strategic thinking exercises into your innovation strategy.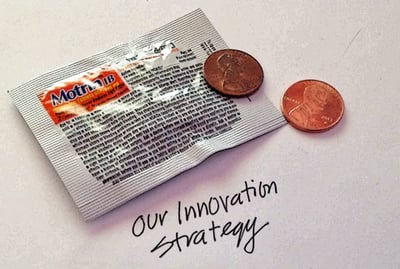 20 Reasons to Download the Strategic Thinking Exercises in Our Innovation Strategy eBook
With that in mind, here are twenty reasons you should download "The Outside-In Innovation Edition" of the Brainzooming "Fake Book of Strategic Thinking Tools" today!
It's free!
There are strategic thinking exercises in the Fake Book that aren't anywhere on the Brainzooming blog.
You'll find out what a Fake Book is in music and how the concept of a Fake Book relates to outside-in innovation. (page 3)
There's a guide to match your innovation style to the strategic thinking exercises that make the most sense for your organization. (page 5)
These sixteen strategic thinking exercises can integrate into your current innovation plans to bring them to life. (page 5)
There's a brief, understandable profile of the three types of organizational innovation profiles (including a link to a report on the "Global Innovation 1000"). (page 4)
We identify where each strategic thinking exercise fits within Henry Chesbrough's "Services Value Web" model (and yes, there's a link to the model, too). (page 5)
We introduce the Brainzooming perspective on WHEN to use each of the exercises in your service delivery process. (page 5)
Once you complete the first exercise on mining your brand benefits, you can use it as an innovation platform to jump start several other innovation opportunities. (page 7)
There's an easy way to translate your brand benefits to identify new innovation opportunities based on other companies or markets delivering comparable benefits. (page 9)
You can take your team through an exercise to help anticipate non-traditional competitors who may enter your market with disruptive innovation. (page 10)
You will be able to link product innovation ideas to both core strategy and extreme creativity exercises. (page 11)
We turn service blueprinting on its head to use is as a service experience innovation tool. (page 12)
You'll learn a way to go to school on competitors' innovation strategies to smarten up your own innovation strategy. (page 13)
It will become clear why you need to understand who the canaries in the coal mine are in your business and industry. (page 15)
There's a handy-dandy diagram to see if your last innovation isn't so innovative anymore, and it's time to invest in innovation. (pages 16 and 17)
All you have to do is start filling in the names to complete your future-looking research game plan. (page 18)
We feature fifteen questions to get your team exploring potentially disruptive innovation. (page 20)
You'll be able to choose from two different formats for our popular, "What's It Like?" strategic thinking exercise. (page 22)
You'll be the best-prepared person on the upcoming webinar we'll be featuring on Outside-In Innovation.
Is that enough reasons for you to download the outside-in innovation strategy eBook?
If not, let us know, and we'll share all the other reasons we DIDN'T list here! – Mike Brown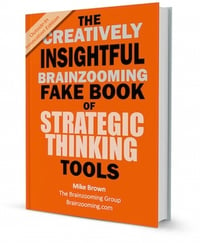 Are you making the best use of customer input and market insights to deliver innovation and growth? Creating successful, innovative new products and services has never been more dependent on tapping perspectives from outside your organization.
This new ebook features sixteen strategic thinking exercises to help you ideate, prioritize, and develop your best innovative growth ideas. Download this free, concise ebook to:
Identify your organization's innovation profile
Learn and rapidly deploy effective strategic thinking exercises to spur innovation
Incorporate crowd sourced perspectives into your innovation strategy in smart ways