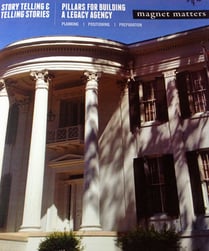 The theme of the Magnet Global advertising meeting where I spoke recently on creating strategic impact was building a legacy agency.
By building a legacy agency, they meant an organization that grows and retains value for an owner/principal as they transfer the organization to a next generation of leadership.
There were a variety of outstanding presentations. One in particular that struck me was from Bill Hughes, President of LMK in St. Louis.
A major part of what resonated for me in Bill's remarks was his leadership perspective (he admitted leading best with a leadership team vs. solo leadership), and his willingness to make decisions to his detriment that benefitted others in order to strengthen the organization. His leadership perspective is not one you see extolled very often, yet it rings completely true for a genuine servant leader.
Two Out of Three Ain't Bad
One strategic maxim Bill Hughes shared that translates into a strategic thinking exercise was his view on the characteristics of productive client relationships. Bill counseled attendees to use three selection criteria for productive client work:
1. It creates learning for the organization
2. The work is enjoyable
3. It pays well
According to Bill's perspective, you must have two of the three for productive work leading to a healthy, legacy agency.
Thinking about it, that makes perfect sense. Consider the classic strategic maxim, "Fast, cheap, and perfect - you can have two of the three, but not all three." It is very comparable.
Strategic Thinking Exercise
Here's the broader strategic thinking exercise. Whenever you are involved in a strategic relationship, express it with three criteria: two related to the experience and one to the value exchange.
You can this strategic thinking exercise at the front end of a relationship to negotiate and form it.
Alternatively, it serves as a diagnostic once a strategic relationship feels as if there are problems, especially when the problems emerge suddenly. If that's the case, chances are two out of three ain't bad. It's likely two out of three are necessary, and you're down to one! And that's bad. - Mike Brown