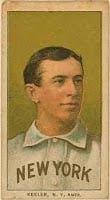 This series of posts is dedicated to one of my favorite all-time baseball players, Wee Willie Keeler. He was a great hitter in the late 1800's and early 1900's, a member of the Baseball Hall of Fame, and at 140 pounds and maybe 5 feet, 4 inches, one of the smallest players ever in professional baseball.
Beyond his impressive performance (lots of hits, hitting & bunting in unusual ways, rarely striking out, hitting sacrifices to advance runners, being part of five championship-winning teams, etc.), he's a favorite player of mine because of his famous strategic success mantra, "I hit 'em where they ain't." That approach works in so many ways strategically, that it's the inspiration behind all of the perspectives below.
"Hitting Where They Ain't"
Many markets, especially in the business-to-business arena, are relatively conventional, i.e. they don't necessarily have a lot of breakthrough, cool new developments such as the iPhone. Even in these cases, however, there's still a great opportunity to make a mark because in a conventional market, small doses of unconventional can really stand out. Sometimes, dramatic change comes from doing simple things that nobody else is doing.
Here are a few questions to ask and answer to help identify ways to be more unconventional in your own market:
What are things that customers have been requesting that we've yet to deliver?
What are the most frequent customer-precipitated exceptions to our product or service?
What are the most frequent employee-created exceptions to our produce or service?
What are the best, most successful companies (regardless of industry) doing to grow customer relationships with their brands? How can we emulate them?
If a competitor isn't already doing your answer to one of the questions above, you're set with a potentially great opportunity for an unconventional move.
"Don't Get Hit Where You Ain't Looking"
I spoke a couple of years ago on the same program as the then-COO from Sprint. During his presentation, he highlighted the incredible number of photographs being taken and sent via cell phones on a monthly basis.
It would have been interesting to sit inside Kodak in the years leading up to the emergence & explosion of this capability to see if cell phones were ever considered as competitive threats. I suspect they weren't, especially since a Kodak exec I saw presenting at a Frost & Sullivan conference in early 2007 couldn't get beyond his focus on printing things. There wasn't much recognition of alternative means of communicating and transmitting images and the impact on Kodak.
The scary implication for any business is that not all future (or even current) competitors will "look" like you. Cell phones don't look like cameras, and the images that they produce aren't too conducive to printing. Yet, for capturing & sharing images, they're a lot more functional than a traditional camera (or even an electronic one).
How can you begin to assess and project the nature of future competitive threats. Beyond cursory exploratory research, here are several questions to consider:
What benefits does your company deliver? If you didn't deliver them, who else currently would / could deliver them?
What if your company never existed – how would customers satisfy their needs?
What if your industry never existed – what alternatives might develop to satisfy needs?
Who are the niche players in your markets today that could grow in prominence? How might they be defining your business for you right now?
We used the first benefits-oriented set of questions at a strategic presentation for the Kansas City Business Marketing Association in looking at how Apple had disrupted other markets, yet could be disrupted itself. The exercise interestingly yielded Microsoft, Garmin, YouTube, and Louis Vuitton as all potential competitors to deliver the same benefits Apple does. That's quite a wide-ranging list!
This type of work is challenging and highly speculative. But it pays to consider, anticipate, and prepare for as many competitive possibilities as you can picture.
"Stayin' Fresh Where They Ain't"
How many people in your company read trade pubs and websites from your industry? Probably a lot of them.
How many of them are deliberately perusing content from industries outside yours or in functional areas outside their fields of expertise? Probably not all that many.
So what should you do about it? Be a contrarian – go where everybody else isn't, checking out trade pubs and web content from outside your industry such as:
Industries known for innovation or performance in areas where your industry lags.
Industries with similar, but more advanced life cycles than yours.
From functional areas that your business may ignore, but probably shouldn't.
Pursue this approach and keep answering the question, "How can we apply this out of industry content to our business situation?"
"Doin' It Like Wee Willie Keeler Did"
Wee Willie Keeler is certainly a great example of someone small making the most effective use of resources and talents to beat much larger and more substantial competitors. It's possible to adapt his approach to baseball when you need a new perspective in battling against bigger competitors. You can use the "Change Your Character" approach and delegate challenges to him as he:
Focuses on being more productive
Does things to be able to perform more consistently
Takes steps to rarely fail (or at least less than his competitors)
Takes advantages of competitors' weaknesses and gaps
Concentrates on how he could help others advance to help his team win
Embracing an unconventional & hard to defend against approach to execute his role
Uses a smaller asset (in this case, a bat) than was thought practical
Helps the team succeed as a collective group
So figure out where your competitors are positioned, take a practice swing or two, and smack the ball right between them to advance your brand teammates!
Some Final Thoughts on "Hittin' 'Em Where They Ain't"
Here are a final few strategy quotes that reflect Wee Willie Keeler's competitive perspective:
"Resist the Usual" - Raymond Rubicam
"Successful business strategy is about actively shaping the game you play, not just playing the game you find." - Adam Brandenburger & Barry Nalebuff
"Competitive strategy is about being different. It means deliberately choosing to perform activities differently or to perform different activities than rivals to deliver a unique mix of value." - Michael Porter
"Strategy used to be about protecting existing competitive advantage, but not any more. Today it is about finding the next advantage." - Vijay Govindarajan, Chris Trimble
"K is for Keeler, As fresh as green paint, The fustest and mostest, To hit where they ain't." - Ogden Nash

Photo:

http://losangeles.dodgers.mlb.com/la/photo/history/ph_history_timeline_keeler.jpg