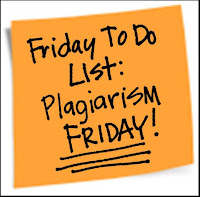 Speaking to a graduate level class on innovation several years ago, we covered the concept of borrowing ideas from other sources, looking for opportunities to change & incorporate them into your business.
One student, a communications professional at a major local company, said his department held "Plagiarism Fridays." They were trying to upgrade their marketing effort, and Plagiarism Friday was a bit of a show-and-tell to get employees looking at strong creative from other industries, thinking about how their company could learn from it.
Here's a way to take this approach and adapt it for your own business:
Schedule time and ask employees to look for examples of great ideas to share. The only rule - they have to be from outside your industry or competitive set.
Have participants present the selected ideas – perhaps 2 or 3 pieces per session.
Get each person to do a quick personal assessment. For each idea, identify what's strong, what's weak, what's intriguing or unusual, and a recommendation for how your business could incorporate some

learnings

from it. Share the assessments as a group.
Select one of the sample ideas and using the input from the assessments, have the group apply it to one of your business challenges to see what possibilities arise.
Select at least one new possibility and do something to advance it.
Plagiarism Friday sounds like a great idea to me, so…go ahead, steal it and take it to work tomorrow (just be sure to change it and make it better)!