Becoming an official sponsor of the Olympic Games is expensive.
But what if your brand wanted to APPEAR to be an Olympic Games sponsor without paying the typical sponsorship fee? Is that even possible?
Yes, it is possible, if you are adept at guerrilla marketing (affiliate link) and are willing to try a sponsor bomb strategy. A sponsor bomb, similar to a photobomb, involves getting near enough to a major sponsorship property to be able to bask in the attention it generates – without running afoul of the sponsorship property owner!
How do you sponsor bomb the Summer Olympics?
Here is how we applied guerrilla marketing principles to create a sponsor bomb for the 2008 Beijing Summer Olympics at my former company, a global business-to-business transportation services provider.
The Background for the Strategy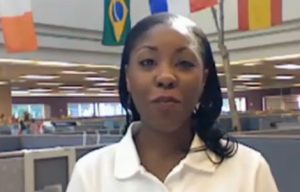 Our company wanted to send a message to a focused target audience of employees in our headquarter locations - Kansas City, MO and Cleveland / Akron, OH - and the broader local communities. The message was our company was still viable, had a global perspective, and had the stability to be associated with a major event such as the Summer Olympics.
The guerrilla marketing approach involved a series of 4 identically-structured television commercials starring our own employees from around the world. Each commercial delivered the same message and was featured in heavy rotation during local advertising breaks for the NBC affiliates within the Summer Olympics in our headquarter TV markets. While we skimped on metrics (because of a very tight budget), the overwhelming feedback of people in both markets was a belief that we had to be a major sponsor of the Summer Olympics.
4 Keys to Sponsor Bomb a Major Sponsorship Property with Guerrilla Marketing
From our experience sponsor bombing the Olympics, here are our takeaway guerrilla marketing lessons to developing and implementing a sponsor bomb strategy:
1. Figure Out All the Places Where the Event Will Be Visible to Your Target Audience
If you're going to sponsor bomb successfully, identify everywhere the sponsor property will be visible – in-person, traditional media, online, etc. Once you have done that, figure out which venue is most likely to overlap with where your target audience will be viewing or participating in the event.
In our case: The opportunity was to buy time in the local TV affiliate breaks since it was affordable and allowed us to target audiences in Kansas City and Cleveland/Akron.
2. Mass Inferior Resources to Maximize the Impact
When you are using a guerrilla marketing strategy in place of a traditional sponsorship it probably means you have inferior resources relative to traditional sponsors. The difference is though, you may have proportionately more dollars to put into marketing the sponsor bomb effort. You need to orient the marketing mix for your sponsor bomb strategy to have the biggest possible impact when you can be active, even if it means passing up having a presence elsewhere / at other times.
In our case: We put our advertising investment into only the two (eventually 3) local markets with 15-second TV commercials. These shorter commercials were less costly, allowing us to buy approximately 100 or more airings in each market coming into and leaving local break in the Olympics. The result was if you were in either local market, we seemed to "own" the Olympics broadcast because of the high frequency we achieved.
3. Keep Your Hands Really Clean
With a sponsor bomb strategy, you don't want to run afoul of the sponsorship property owner or other sponsors. That means it is vital to understand what you can and cannot do, say, and represent relative to the property.
In our case: We could not show the Olympic rings, but the legal team said we could say "Summer Olympics" without naming the host city of the Olympics.
4. The creative execution should be more strategic than creative (and it must be incredibly creative)
Creative execution for a sponsor bomb has to integrate strongly with the rest of the sponsor bomb strategy to maximize the impact with the target audience. The creative has to match up with the objectives, the budget, and how you are deploying resources. To make the sponsor bomb work, creative that generates a big "wow" without supporting every aspect of the strategy is just a wasted opportunity.
In our case: To stay in budget, we had to go with lower production values. The idea of featuring employees played into lower production costs, plus it put the target audience right into the Olympics advertisement. The repetitive structure allowed us to feature more employees (4 different versions of the ad) while not compromising the advantages we were getting from the high frequency we were able to achieve with 15-second advertisements (featured below).
Have you tried or seen a similar guerrilla marketing sponsorship strategy?
There are multiple ways you can employ this type of non-traditional sponsorship strategy. As we've discussed previously, The Brainzooming Group used a variation of this approach to create the Building the Gigabit City sponsorship. While it may be more challenging strategically than a typical sponsorship approach, the rewards for your effort can be tremendous! – Mike Brown
The Brainzooming Group helps make smart organizations more successful by rapidly expanding their strategic options and creating innovative plans they can efficiently implement. Email us at info@brainzooming.com or call us at 816-509-5320 to learn how we can help you enhance your strategy and implementation efforts.