I'm presenting an updated version of my shoestring sponsorship marketing workshop today at the Nebraska Healthcare Marketers Conference. The sponsorship marketing presentation provides an overview on a variety of models any organization can use to evaluate current sponsorships and get the most from them.
3 Reasons Organizations Become Sponsors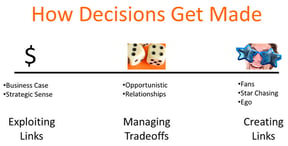 Organizations get into sponsorships for three broad reasons:
The sponsorship fits with a broader sponsorship strategy
The sponsorship appears to make sense because of an opportunistic advantages (i.e., it's cheap because the sponsorship is unsold and the event is imminent)
Ego or fandom drives a sponsorship decision irrespective of business sense or sponsorship strategy
Knowing these three reasons helps both executives who decide on sponsorships and sponsorship marketers responsible for the marketing to gain the greatest benefit from one.
For executives, ideally considering this list prompts selecting more sponsorships in category one and fewer sponsorships in category three.
For sponsorship marketers, evaluating sponsorship decisions within these categories suggests the most effective sponsorship strategy.
Strategic Sponsorships
When a sponsorship decision is based on analysis and a business case, the initial sponsorship strategy becomes straight forward: take aggressive advantage of the sponsorship assets and platform to begin implementing and marketing the sponsorship.
Opportunistic Sponsorships
If a sponsorship is opportunistic, the first step is understanding the trade-offs making the sponsorship attractive as an opportunistic deal. If the sponsorship is cheap because time is running out, do you have more money to market the sponsorship even if there is little time to do it? Or is your organization getting a small piece of an incredible sponsorship opportunity, but you're far down the list of sponsors lining up for sponsorship assets? Knowing the advantages and disadvantages suggests the best strategic path to maximizing the sponsorship's benefits.
Ego-Driven Sponsorships
Finally, if a sponsorship is ego or fan-driven, step number one in developing the sponsorship strategy is creating strategic connections. What are the brand characteristics, activities, messages, and sponsorship assets you can access? Knowing that, you can begin creating strategic connections back to your brand. These connections can turn an ego-driven sponsorship strategy decision into an implementation plan that actually makes strategic sense. This may not always be possible, but knowing why you're in a particular sponsorship is vital to getting benefit from it.
A Sponsorship Strategy Evaluation
If your organization is doing sponsorships, what reasons are you in them? Do these three categories work in creating greater strategic impact from the sponsorships you pursue? - Mike Brown